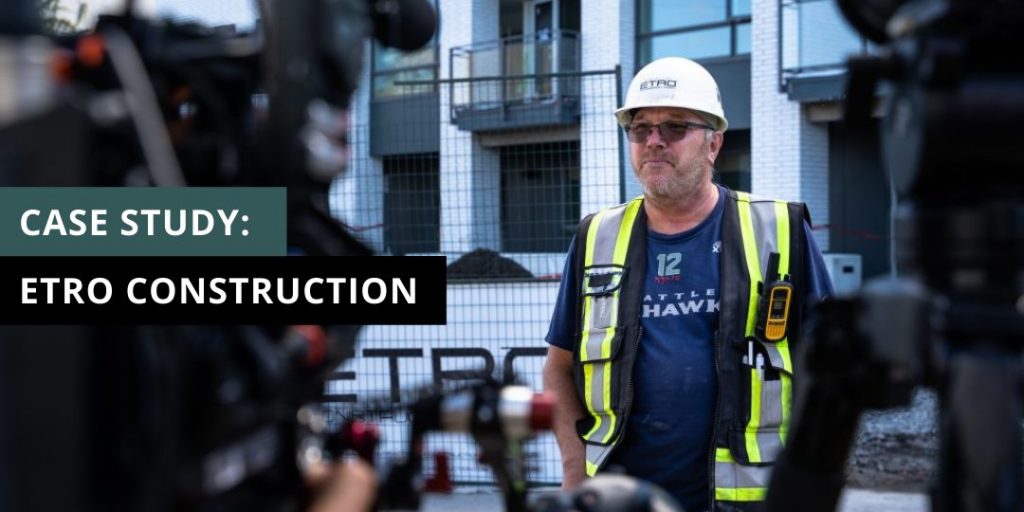 Technology, recruitment, and construction. All three of these elements have been put together to revitalize construction recruitment. For ETRO Construction, the old-school methods of workforce management have been left in the dust at the company's Kits Walk project.
Sophistication and schedules are key when building a boutique 48-unit apartment in Vancouver, BC. With occupancy right around the corner, ETRO Construction needed to beef up its workforce.

Every task performed on a construction site depends on speed, efficiency, and accuracy. So why not do the same for recruitment?
Since adopting Faber Connect, they've cut out the paper timesheets, cut out the in-person interviews, improved applicant transparency, and freed up more time to focus on getting the project done!
"If I can do it, anyone can."

Wayne Beugelink, Superintendent, ETRO Construction
Who is ETRO Construction?
ETRO Construction Limited is a fast-growing construction management and general contracting firm based out of Vancouver, British Columbia. Their foundation is built on quality and a commitment to creating exceptional projects and experiences. They are a company of builders and experts that have a passion for doing things differently.

Since starting off in 2015, they've made big strides in developing commercial spaces for big brands like MUJI and JW Marriot. ETRO Construction is also making waves in building more homes for families through multiple townhome and condominium developments. Results speak louder than words, and they've really solidified themselves as a community-focused builder in Greater Vancouver.
After working with ETRO Construction for more than a year, we can say they're a great company that is creating communities and families wherever they work. Even the Faber Work users on their sites experience the passion of the family-like crew firsthand – to the point where they feel like they are a part of the ETRO Construction family.
How ETRO Construction met Faber Connect
ETRO Construction first used the Faber Connect platform in April 2019. The project was Woodstock Townhomes, and like many other construction companies, the lack of manpower eventually became a problem. With so much to do with so little time, ETRO Construction took on Faber Connect as a solution.
Since then, ETRO Construction has leveraged the Faber Connect platform to remove the thorn in their side – the lack of skilled tradespeople and general laborers. With a blend of cutting-edge construction technology and an evergrowing database of reliable Faber Work users, ETRO Construction's recruitment process was made easier than ever before.

Construction technology is on our side, and Wayne Beugelink, Superintendent at ETRO Construction wholeheartedly agreed. With 40+ years of experience in construction, we're happy to make his day to day easier with a simple mobile app.
"I was initially a little concerned because, you know, I'm not young and technology is not my friend. But the [Faber Connect] app was set up for me. It's easy to use, [now things] are easier on me."

Wayne Beugelink, Superintendent, ETRO Construction
Why General Contractors like ETRO Construction choose Faber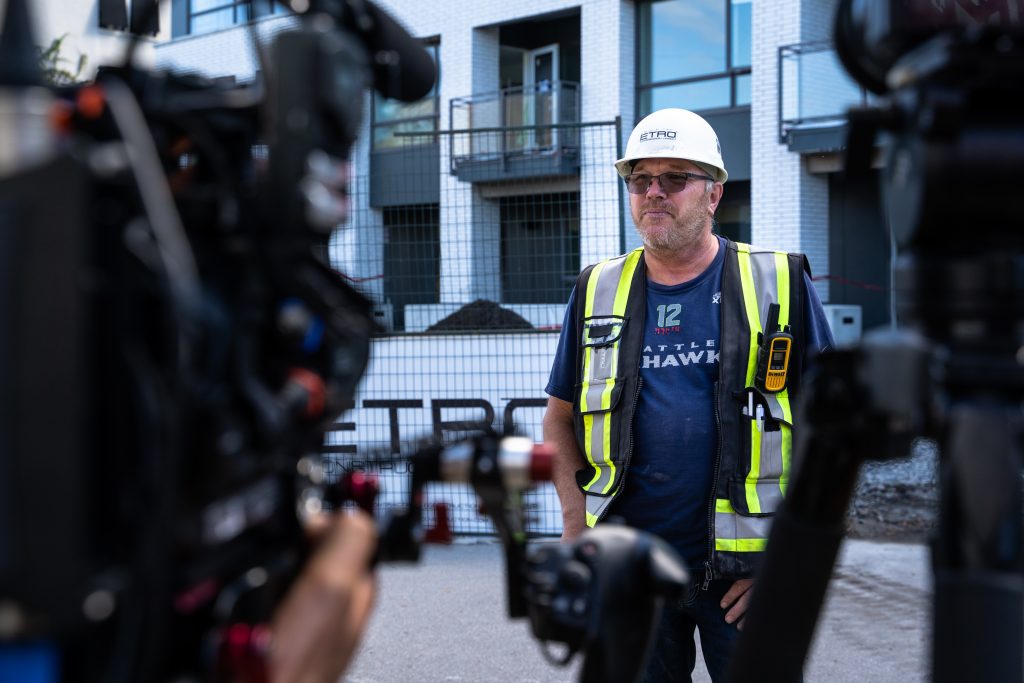 1) Simple and easy to use technology
When people are desperately needed on-site, adding complicated software or playing phone tag can throw more fuel into a fire. Faber makes construction recruitment easy. The Faber platform comes in two forms for construction companies: a website to access when at a desk, or a mobile app when on the go.
Flipping between the two is seamless, and all your work is synced to your company account. Each feature and button is planned and built with purpose and user experience in mind. From creating a work-order to approving worker hours, simplicity makes the Faber platform easy to pick up in less than 30 minutes.
More advanced features are always available, however, the core remains the same. Create a project, submit a work-order, view worker profiles, and pick the people that fit your project needs.
2) Maximum transparency with worker profiles
Construction workers sign up on the Faber Work app to create a full profile that highlights their skills, certifications, and tools. Companies can then rate and review the workers based on their performance. Other companies can see each worker's past jobs and reviews, giving full transparency of past jobs, work performance, and experience levels.
All Faber Work users go through a thorough screening process and verification check before being able to work on any job site, which cuts time spent interviewing candidates.
3) End to end workforce management solution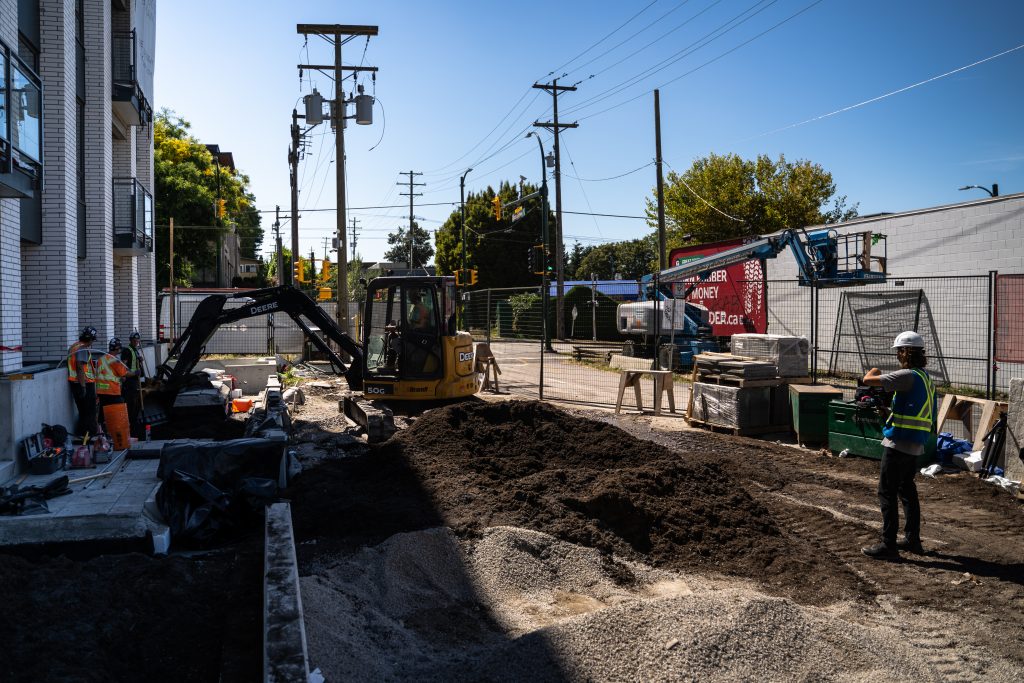 General contractors find construction workers with Faber, but what about the paperwork? Faber covers all worker liability and payroll so cheques do not have to be written out each week. All hours, rates, and project costs can be found in the invoices dashboard. Everything needed to manage a workforce is all included in the Faber Connect platform at no additional cost.
Without Faber, adapting your crew size for project demands could result in more paperwork. The Faber platform cuts out all the admin tasks associated with managing a workforce. Need to add more crewmembers? Only a few taps away – no admin work needed. If any questions or issues do pop up, we have a dedicated support team and help section to make sure things are smooth sailing.
Find construction workers on demand with Faber
There's a reason why leading construction companies have made the pivot. Get connected with local construction talent on-demand, close up those labor gaps, and reclaim the time lost chasing the best candidates available. Try it for yourself – you'll see why we're shaking up the construction recruitment space.
Sign up for free and connect with the best construction workers in your area.
If you have any questions, check out our FAQ section here or give us a call at 1-888-366-WORK.