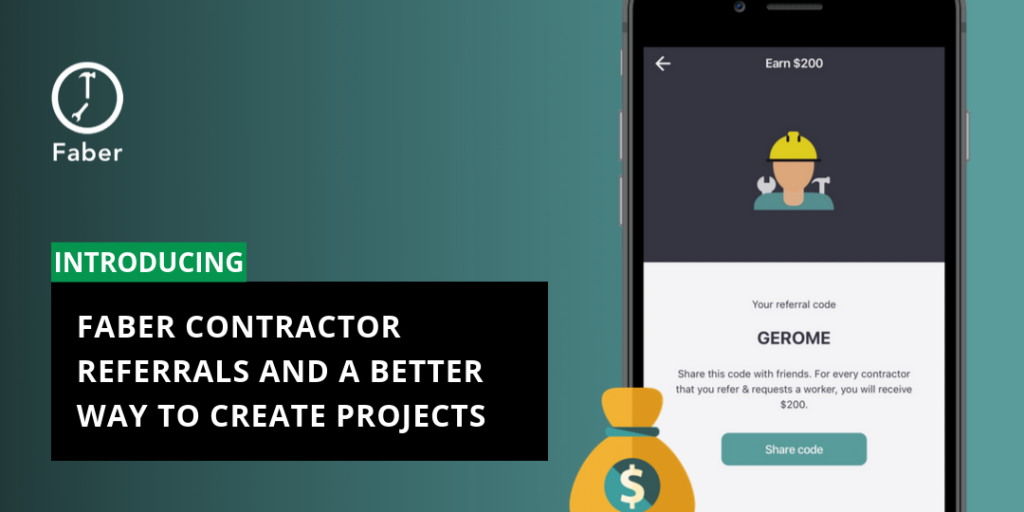 Word of mouth is a powerful tool that helps us connect with others. We want to tell stories about the positive experiences we have, so that the people we connect with can experience the same thing. The foundations of civilization were built on relationships and trust. This is why referrals have a heavy hand in the decisions we make throughout our day.
Whether it's an online review or recommendation from a good friend, we often look for other people's experiences before trying something completely new.
With this month's Faber Contractor product update, we added two new features:
You can now invite other Faber Contractors and Workers for a referral bonus
There's a better way to create new projects
These updates were created to help you share your experience with others while also speeding up the process of getting your projects completed. Lack of manpower can happen within your company as well as the subcontractors you work with. The more subcontractors you get on your site to use Faber, then the faster they can find more people to move the project forward.
You can also refer the extra workers on your site as well. Doing so gives them more opportunities to work, build on their skills, and stay busy in between projects. The value in referring workers to the Faber platform is that this contributes to solving the overarching labour gap problem that's rampant in the construction community.
These workers get placed on other Faber projects to keep your community growing.
Creating projects that are attractive to Faber candidates will increase your chances of finding a suitable person for the job. The project creation process was revamped to decrease the time spent on project management too.
Earn a bonus with Contractor and Worker referrals
If you have other contractors or construction companies in mind that are experiencing a labour shortage, then this new feature can come in handy. You can also invite your extra workers to use Faber as well.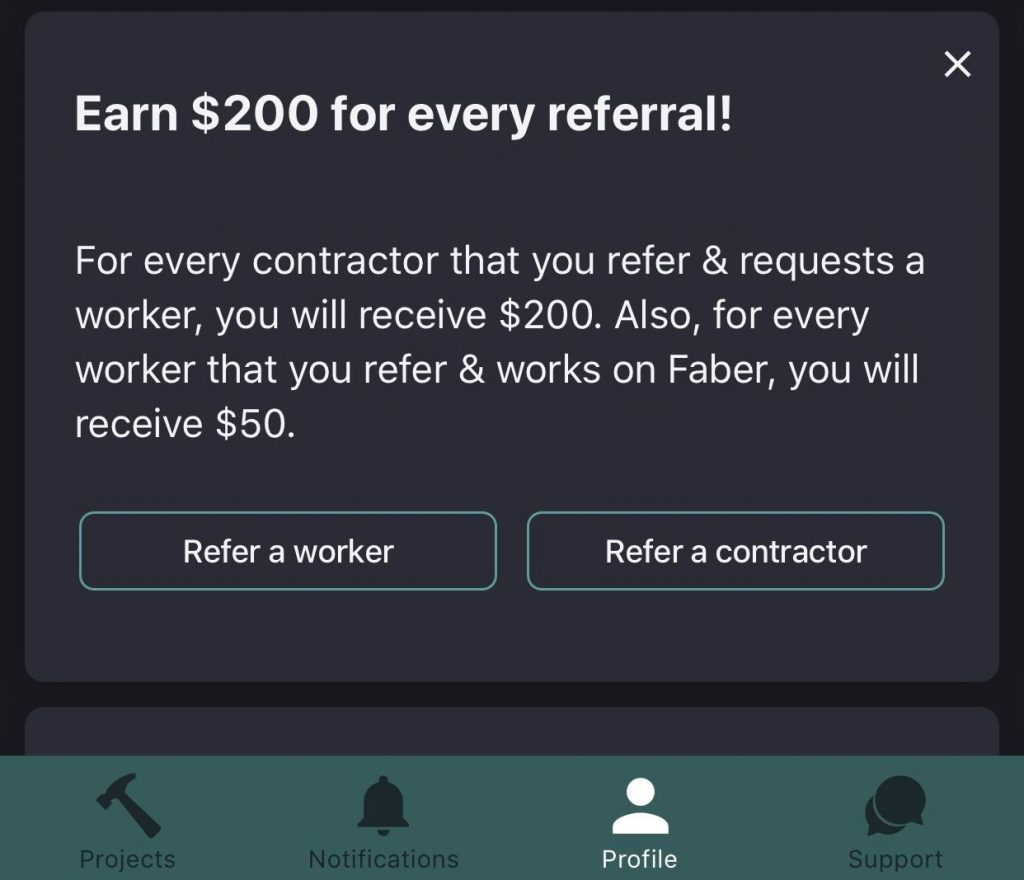 Inviting others is easy and can reel in a bonus for you and your company. The referral bonus comes in two forms:
For referring contractors: $200 Visa Gift Card or credit applied to your company
For referring workers: $50 Visa Gift Card or credit applied to your company
You can pick between the two options. If you decide to pick credit that is applied to your company, the credit will be tied to the project supervisor on your Faber invoice. This will also help you track which team members are referring others to earn your company the bonus.
Once the Contractor you've referred completes their first request for workers or a Worker you've referred starts working a project on Faber, then the reward is sent to you by our Operations team.
How to refer Contractors and Workers
You are given a unique referral code that you can share with others. Only new contractors and workers can redeem referral codes.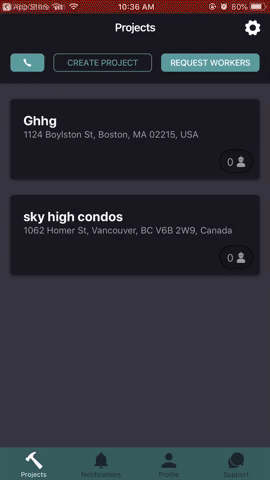 Click "Profile", scroll down and click "refer a contractor" or "refer a worker"
Tap/Click "Share Code", which should ask you how you want to share your code
Choose your sharing option, which should open a new tab in your browser/mobile phone
The app will automatically create a message and link (it will look like "www.faberconnect.com/contractor-app")
The message should include your unique referral code
Keep in mind that referral bonuses are only active in select cities
When someone clicks your referral code link, they'll be guided through the sign-up process
Once they complete their first request or job offer, you (or your company) will be sent the reward
With this brand new feature, you'll be seen as a pioneer in your inner circle by introducing Faber as a new solution for plugging in those labour gaps.
A better way to set up and create Faber Projects
No more having to brainstorm a new project description. Instead of writing a project description yourself, we've created a new workflow to speed up the way you use Faber. You'll be prompted with predefined questions that only require a few taps to answer. Depending on what you've selected, the platform will create a project based on the project details you've selected.
Using this new project creation workflow also helps our algorithm find you the best quality workers that match your project needs.
This update not only helps you cut project creation times, but also makes your project look a lot more attractive to the Faber workforce.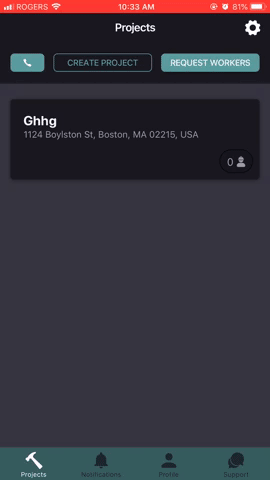 Spread the word about Faber Contractor
The way we share information and new ideas with each other is a human strength. The ancestral human habits of telling stories and sharing innovative ideas propelled the growth and development of mankind.
With the construction industry, solutions should be shared to keep the wheels of innovation turning. The more projects that are available to workers, the more engaged the industry's workforce can become. With a more engaged workforce, we can close the labour shortage gap together.
Have people you want to refer as a Faber Contractor? Log into the Faber Contractor app, create a project, and spread the word about Faber.