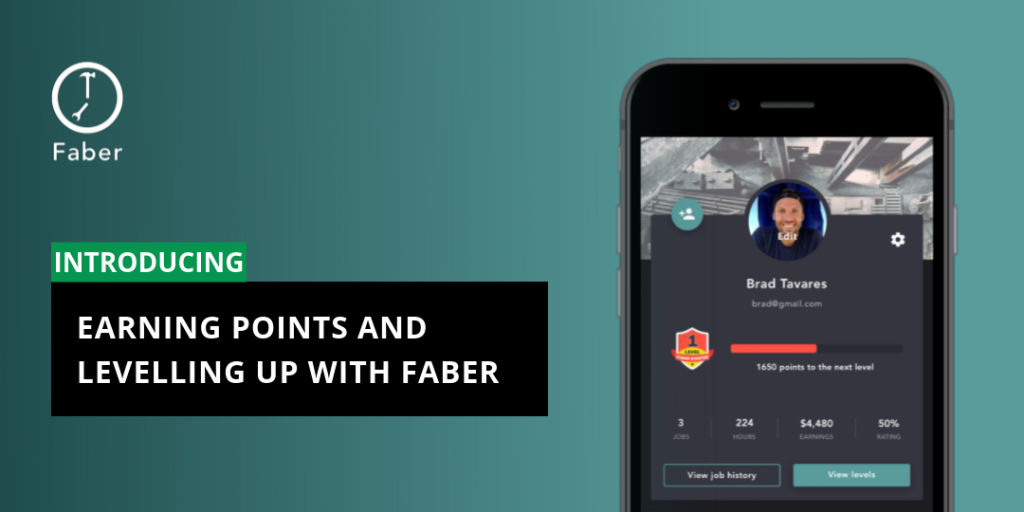 Construction workers like you do more than breaking things down or putting the pieces together. You come into work and put in a great number of hours to slowly build huge man-made structures like residential homes, apartments, and skyscraper-esque commercial buildings.
You call the gritty construction site your "office" before anybody else has a chance to call it that.
Since launching in 2016, construction workers on Faber have shown their resilience and willpower to make the dreams and ideas of others a reality. At Faber, it is our goal to give you a countless number of opportunities to learn, grow, and develop a strong career in construction.
Fast forward to 2019, and we've built something to help the people who are working through Faber feel like they are growing their careers in construction.
You can now track your progress on the Faber platform with our new Worker Levels. This new feature can help you make more money and connect with more projects through Faber.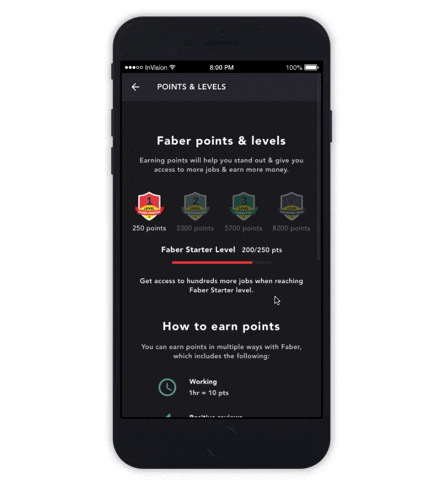 Level up to stand out in a crowd of applicants
When you start working construction gigs on Faber, you'll receive points for every milestone you hit. Actions and events like completing your Faber profile (i.e. adding a photo, description, skills, etc) can earn you points & reputation on the platform.
Each level gets harder to reach, and rightfully so. Construction isn't an easy industry to work in, and you definitely don't earn points for every milestone you hit. With this in mind, all levels achieved through Faber can serve as a measuring stick for how you are progressing in construction.
These milestones can show yourself as well as others that you worked hard to achieve a certain number of "experience points". Faber Contractors can see the levels that you've earned, which can give you a better chance at standing out in a sea of applicants.
Earning points and levelling up unlocks unique benefits
Alright, so now that we've covered why we introduced levels, you may have noticed a small "experience bar" and Level badge below your profile photo.
This badge tells you and the construction companies on Faber how much experience you have working through the Faber Connect platform. Currently, you can gain up to 4 levels on the Faber Work app. Earn enough points to level up, rise through the ranks, and earn the following badges for your profile:
Level One: Faber Starter
Level Two: Faber Maverick
Level Three: Faber Pro
Level Four: Faber Preferred Pro
Each level has its own unique perks that can help you earn more when working through Faber. For example, levelling up to Level 2 or  "Faber Maverick" gives you the perk of seeing jobs earlier than other applicants. Level 2 workers can potentially make more money because they have earlier access to apply for the latest projects.
Earning points will get you closer and closer to levelling up. Each level has a unique benefit or perks that can help you match with bigger companies, higher-paying gigs, and give you priority access to our most lucrative projects.
The fastest way to level up is to complete milestones, and continually receive positive reviews from Faber Contractors.
You can also lose points for events such as not showing up to work, or cancelling on a job last minute.
How fast can you earn your first perk and level up?
Earning points and levels are just a small way that can improve your experience working through Faber. When you get those thumbs up from Faber Contractors, then the perks and levels can be seen as icing on the cake. These new features should help you figure out how you're performing and succeeding on the Faber Work app.
This is a way for us to help you have a better experience working in construction. There might be days when you just want a little more feedback, and these levels can give you a better idea of how you're performing.
The Faber Work app connects you with construction projects where you can learn new skills, or develop any existing ones. If you are looking for the best way to find construction work on short notice, then Faber Connect has you covered.
Ready to check out the new levelling system? Update and sign into the Faber Work app, or sign up for Faber to find construction gigs today.