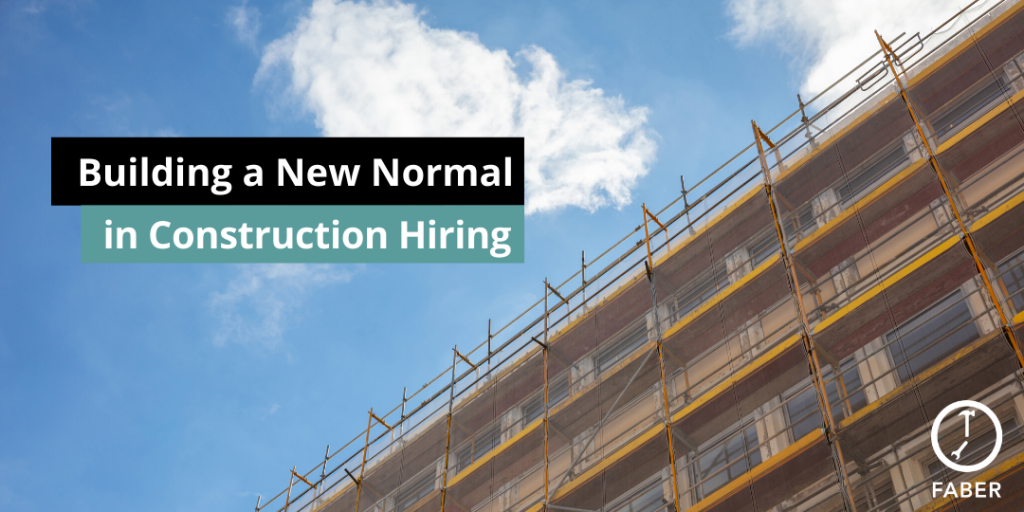 The global pandemic of COVID-19 pushed the world to evaluate and redefine what "normal" looks like over the coming weeks, months, and potentially years. A search for the new normal became a priority for many industries.
Keeping 2 meters apart, frequent handwashing, avoiding physical contact, and working from home whenever possible have been the norm for a good part of 2020. Despite these changes, construction projects are still moving along, thanks to the implementation of more precautionary measures.
Our industry has been hit by something unprecedented which brought a slowdown to many companies. However, the significance of the construction industry is proven day after day as we continue to see homes, bridges, and high-rises built before our eyes amidst a global pandemic.
So what does the rest of 2020 look like, and how can the construction industry continue to move forward?
What the rest of 2020 will look like in construction

Until we've found a solution to keep us protected from COVID-19, there are things that are clearly here to stay for the time being. 
Encouraging less in-person interactions and working from home when possible helps keep everyone safe on a job site. This can be a tough change for those who conduct board meetings, business development meetings, or even in-person interviews.
For on-site workers, physical distancing is encouraged by staying 2 meters apart and limiting the number of people on a site. Both protocols have been a highly effective way of making sure sites are operating safely while still remaining productive. This does come with an eventual slowdown. With fewer people on a site, the fewer tasks you can get done.
Project demands continue to fluctuate with a decrease in individuals on a job site. Projected budgets, timelines, and other logistical milestones have undoubtedly been pushed back as well. Because of this, short-term contract-based work would be a reasonable way for companies to adapt to the ongoing changes.
The ongoing situation will call for construction companies to do two things for the rest of the year. Operate in a way that keeps their workforce agile, while at the same time running lean to reduce safety hazards and large fluctuations in project costs.
Adapting to the rest of 2020 begins with following the framework of thinking of your company's situations now, next, and later.
Adapting to the new normal in construction

This is an ongoing process that many have started way before this article was written. Adapting to the new normal in construction will require looking at what can be controlled now. This includes limiting meetings to virtual platforms like Zoom, Google Meet, and Skype. Even a good old phone call can keep everyone in the loop.
Certain project components like purchasing materials, organizing deliveries from vendors, and hiring or recruiting can also be lumped into what is controllable now. Since the situation is so fluid, managing goals and tasks with shorter timeframes can help.
Our team at Faber Connect adapts to the state of the market and prioritizes what can be controlled now. Once the current situation is assessed (admittedly this is a moving target), it becomes easier to start thinking about what to do next. 
Tuning into what's going on around us as well as the internal data we've gathered can help us predict what to do next. Trusted sources, thought leaders, and even friends and family can help identify what the industry does next.
New habits and strategies will be adopted as companies continue to navigate and operate around the current situation.
Eventually adapting to the new normal in our industry means asking those "what if" questions.
Imagining what late 2020 and early 2021 look like can help formulate answers around the potential scenarios. Some hypothetical examples:
"What if we can only operate at a max of 50 people on site the rest of the year?"
"What kind of projects will we take on in the next 12 months?"
"How will we continue to educate our workforce if trade schools remain closed?"
"How will we recruit and hire when project demands pick back up?"
Creating these questions and building an answer to each "what if" can help identify what to do later.
Redefining construction hiring
With the ups and downs of project demands, manpower on a job site can be made flexible to match these trends. Adapting to the new normal in construction can mean adopting new technologies or tools to help you find workers on demand.
At Faber, we're looking to redefine normal by giving you the power to turn the dials on the workers you have on-site (it's free to try out the platform).
The Faber platform takes in-person interviews and paper resumes out of the equation to help keep your recruiting team safe. Each candidate on Faber is rated and reviewed by other companies so that you understand who you should be expecting on-site without having to meet them in person.
Our automated matching system finds the right candidates so construction companies can focus on moving forward by thinking about now, next, and later.
#StillConnected #BetterTogether