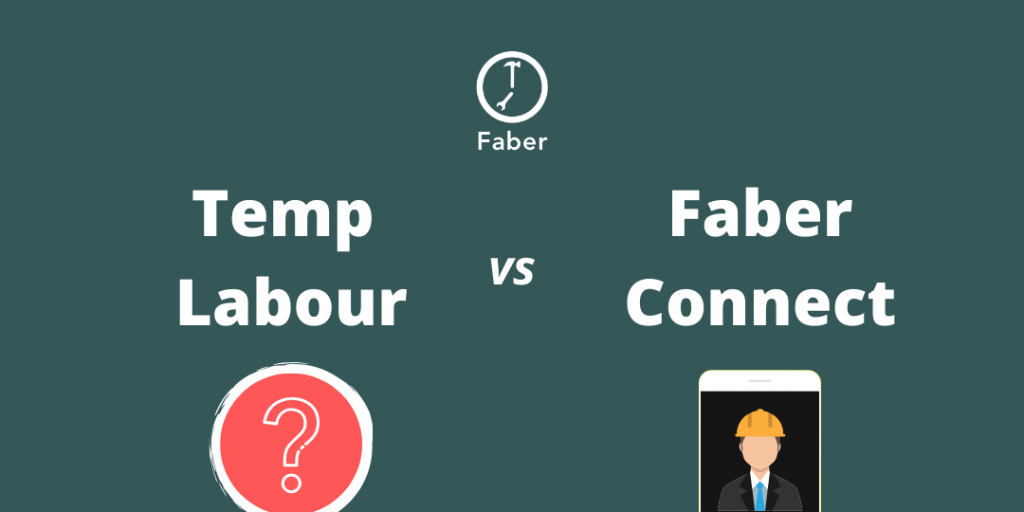 Hiring temporary labour vs Faber Candidates – which option is best? Temp labour was once utilized by a wide range of companies in the construction industry. Whether you're looking for general labourers, carpenters, concrete formers, or skilled labourers with a Red Seal certificate, it's important to know how temp labour stacks up compared to other sources of construction workers.

As you search for construction workers to fulfill your project needs, be sure to determine your other options. If you're like most construction businesses, you need labour that provides a quick turnaround time, can perform accurate work and can show up day after day.
You already know that the best construction workers need to be able to work quickly, accurately, and with the highest levels of reliability.

Here are what you should expect if you are picking and choosing between hiring temp labourers versus Faber candidates for your next project.
What you expect from a temp labour agency
Finding temporary workers through a temp labour agency might seem like the easiest option at first. You call the agency, make a request, sign a contract, and wait for them to place workers on your project. The service seems simple enough, yet there's a reason why you're reading this. The actual labour that is deployed onto your site can make you toss and turn in the latest hours of the night.

Here's what makes temp labour tricky to work with.

From what we've seen in the construction industry, positive traits like enthusiasm are highly contagious – but so is being indifferent, dull, or unhappy. Temp labour agencies were created to provide jobs to people who are in a pinch or in between jobs, but sometimes these temp workers aren't the most enthusiastic about their work. Some are just trying to make ends meet, even if it means doing something they don't enjoy. If a worker isn't happy with the work they are doing, it is very clear to everyone around them.

Reliability is another trait you should expect from temp labour workers. Will your next temp labour worker show up on time – or even show up at all? It might be common for temp workers to show up late or not even at all, which can be due to a bunch of reasons. One of these reasons could be the lack of enthusiasm, passion, or a real drive to build a career in construction.

Communication and transparency are also what you should expect when hiring a temporary labourer. Someone who can communicate that they can perform a task or speak up when something looks wrong can make your project flow much smoother. They also need to be transparent with your existing team and communicate to update them on their status.

Although it's still possible to find a couple of gems through a temp labour agency, the chances could be fairly low. Factor that in with a shrinking supply of skilled labour, and it starts to get to the point where you are rolling the dice.

When you are hiring temporary labour for an upcoming project, you should expect a temp worker you can trust and depend on – but is that always the case?
What you get when you choose to work with Faber Connect instead
What happens when you try a different approach? Faber is a platform that is built upon a workforce of skilled and general labour workers who are looking for short-term and long-term construction projects. A Faber candidate is not a temp labour worker. Faber candidates have been vetted and verified by our in-house team and other Faber Contractors.
Here's how it works:
Each Faber candidate has shown that they are reliable, enthusiastic, and have great communication skills. There are thousands of construction workers on Faber who have references to back up the skills they've included in their profiles. A large majority of these workers already have experience in a skilled trade and have expressed an interest in learning an additional one.

Enthusiasm and passion for doing manual labour work are what you want on your site. When you choose a Faber candidate and deploy them onto your site, you can see these two traits as clear as day. Workers on the Faber Connect platform are motivated to learn and succeed, which helps you staff up your projects with confidence.

Construction workers on the Faber platform are given the tools and information to reach out to you directly when needed. Because of this, transparency and communication are maintained throughout the entire time you have them on your project. Workers can contact your site supervisors using the information found through the Faber Work app, given that you've provided that information when setting up your project on the Faber Contractor platform.

Using Faber Connect instead of temp labour agencies also removes your need to "roll the dice" with temp labour. Each Worker on Faber is rated and reviewed by other Faber Contractors so that you know what type of person you'll be getting on site.

HR & Payroll and WorkSafeBC insurance are also covered by the Faber platform. All you need to do is pick the candidate you want, and we'll handle all the paperwork. Eliminating the admin work is the cherry on top when it comes to picking a Faber candidate over a temp labour worker. Our automated system finds the right match for you so that you can keep your mind on what's most important: the success of your construction project.

When you're ready to hire the best construction workers locally, sign up to be a Faber Contractor and try Faber Connect as a solution today.