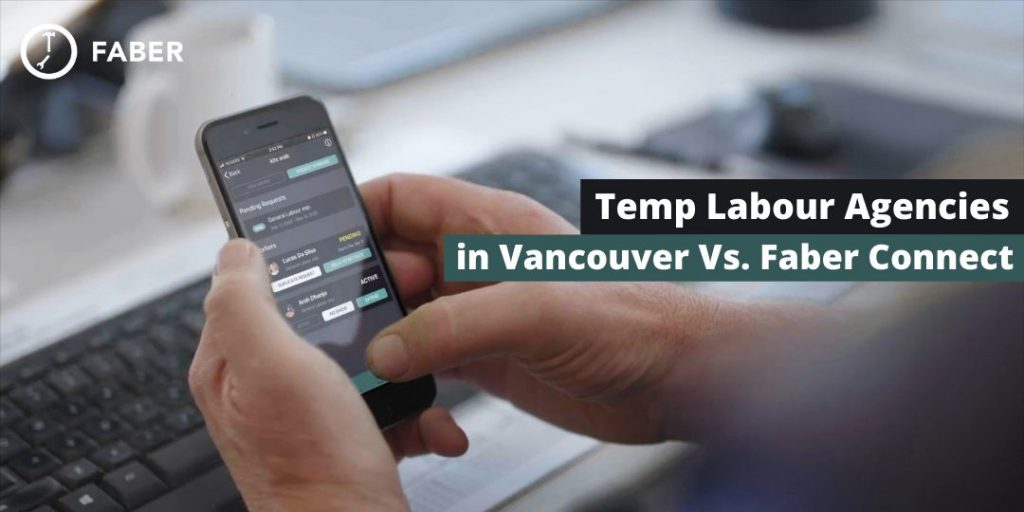 Temp agencies used to be the go-to method when companies had to look for construction workers to fill labour gaps on their projects. Where do you go if you're looking for general labourers, carpenters, concrete formers, and other skilled tradespeople?
When you need construction talent that provides a quick turnaround time, performs accurate work, and is passionate about what they do, then you might want to reconsider the temp agency option.
If you are deciding between hiring through temp agencies versus Faber Connect, then read on to learn more about the key differences.
What to expect when hiring through temp labour agencies in Vancouver
Finding temporary workers through a temp labour agency might seem like the easiest option at first. You call the agency, explain what you're looking for, sign a contract, and wait for them to find candidates for your projects. However, temp labour agencies were first created to provide jobs to people who are in a pinch or in between jobs. Sometimes the applicants aren't the most enthusiastic about their work. They might be trying to make ends meet, even if it means doing something they don't enjoy -this is not their fault.
This means taking extra steps to find people who are passionate about their work. Especially considering the outdoor elements and high intensity of construction work.

The person's reliability is another trait to consider when hiring through temp agencies. Will they show up on time – or even show up at all? What is the protocol if they do not show up? Communication and transparency are even more important when projects are understaffed.. Depending on the temp agency, it might take longer than desired before a replacement can be found.
Now let's throw in the fact that skilled labour is in low supply. Because of these factors, the likelihood of finding the right fit can be low. With a shrinking supply of skilled labour (and passionate construction workers), it can get to the point where it feels like you're rolling the dice. Are you feeling lucky?
What you get when you choose to work with Faber Connect
Faber Connect is a platform that is built with the construction workforce in mind. The Faber Connect platform connects both skilled and general labour workers in Greater Vancouver with construction companies who are looking for construction talent. The platform has two sides that communicate with each other: Faber Connect and Faber Work.

With the Faber Work mobile app, construction workers can pick and choose to match with projects that match their skills, experience, and certifications. Many Faber Work users are interested in working on construction projects to learn the industry and build their career. Each candidate on Faber Work has been vetted and verified by our in-house team to confirm their interests, skills, and experience.
In addition to that, other companies share their ratings and reviews so that other Faber Contractors can get a better understanding of each candidate and their qualifications.
Here's a quick video explaining how the Faber Connect platform works for construction companies and construction workers.
There are endless stories that show Faber Work users in Vancouver are reliable, enthusiastic, and have great communication skills. Some have even started their own business. A majority of these people have experience in a skilled trade, or have expressed an interest in learning an additional one. Construction workers on the Faber platform are motivated to learn and succeed in construction, which helps you staff up your projects with confidence.

In order to make forecasting project labour costs easier, more transparent, construction companies can adjust rates with our variable pricing model to help attract and retain top tier talent.
"You get what you pay for" rings true in our industry, so why not offer competitive pay to stay ahead of the competition?
Our team values transparency. Workers get 100% of the base rate that is set, and a 30% markup is added on top to cover all worker insurance (WorkSafeBC), payroll costs, development costs, and admin fees. Faber Work users can get paid what they deserve, and companies can know exactly where the 30% markup is going. We call it a win-win.
Transparency and communication between construction companies and Faber Work users is highly encouraged and reiterated. Workers and construction companies are given the tools (like phone call or text) and information to reach out to each other when needed. The connection continues even after the project matching stage.
No more "rolling the dice" with temp labour or temp agencies in Vancouver. Experience why other companies made the switch. Try Faber to connect with a construction workforce that is proudly building a better world.