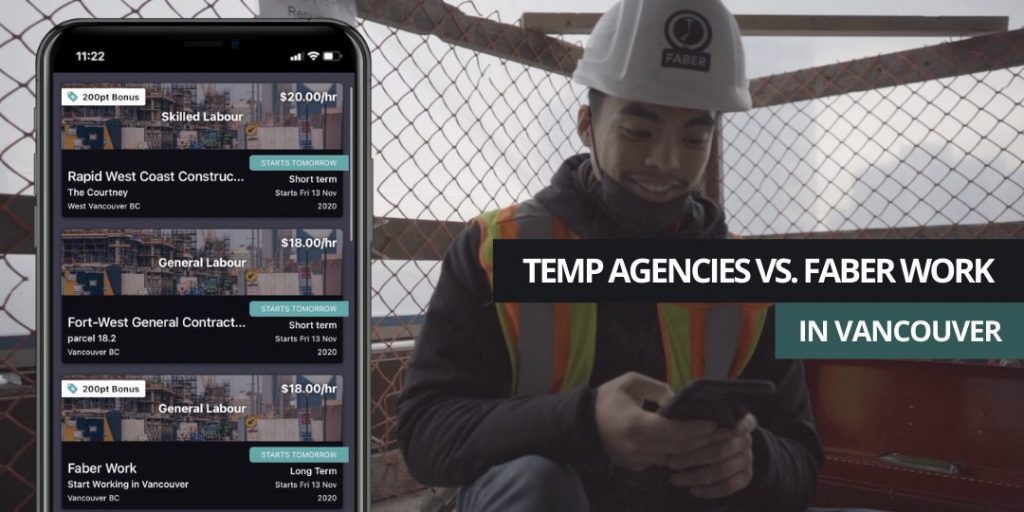 What are Temp Agencies?
Temp Agencies, also referred to as Temporary Staffing Agencies, are recruitment agencies that provide temporary work or employment on a project-to-project basis. Temp agencies commonly service the construction or logistics industries. In construction, general contracting or subcontracting companies use temp agencies to add to their existing crews.
Whether you are an experienced tradesperson or new to the construction industry in Vancouver, you've probably heard of (or worked with) temp agencies. Temp agencies in Vancouver may help you find work, but can they help you build a construction career?

Vancouver has plenty of options when it comes to temp agencies. Can a temp agency offer the best job opportunities, allow you to work your own schedule, pay you higher than most, while also providing room to grow?
In this article, we'll help you understand the temp agency option when it comes to finding construction work in Vancouver.
Finding work with temp agencies
Temporary labour agencies are the traditional way of finding temporary work or jobs in Vancouver. Temp labour agencies start by screening resumes and interviewing applicants. Depending on the applicant's work experience, they'll match the most qualified applicants with temporary work. These jobs can vary across industries, so you might find the interview and screening process general. The temp labour agency's goal is to fulfill the contracts they have in place, thus not all of them are going to be construction related. This also means they can be more focused on servicing their clients instead of the candidates they place on the job.

If you choose the temp labour agency route, you'll typically be asked for your resume, personal information, key strengths, references, and sometimes a background check depending on the jobs or projects that are available. You may also be interviewed on the spot so that you are further qualified for one of the agency's contracts. Depending on the temp agency, you might be required to line up at their office and apply to the projects they have available for the day.
The way that each temp labour agency operates might be slightly different. Temp agencies in Vancouver are all more or less the same. So what's the alternative to finding work with temp agencies?
Finding work with the Faber Work App
Faber Work is a marketplace platform that simplifies the process of finding construction work. Construction workers and skilled tradespeople can create a profile and get matched with projects from the comfort of their own home. The Faber Work platform was created to strengthen the connection between construction workers and construction companies. Both new and experienced construction workers can get into the workforce without having to create resumes, browse job boards, or contact temp agencies.

With the Faber Work app, you have the freedom to find work based on your own schedule. You can pick and choose the projects that give you the chance to show your skills or learn new ones. You can also collect ratings, reviews, and earn "skill tags" to track your personal growth and see how you're performing.
The more skilled you are, the higher you can earn. Skilled tradespeople with 5+ years of experience can now bid on projects and decide how much they get paid. This gives skilled tradespeople on the Faber Work platform the power to earn more.
For people who have less experience, don't worry! There are plenty of entry-level construction projects available. Not only that, you can earn and track experience with great companies. With the "skill tagging" feature, you can choose to log hours for the type of tasks you've performed on a construction site. This serves as a way for you to track the work experience you've gained through Faber Work! With enough experience, one day you can set your own hourly rate through Faber!
Signing up for the Faber Work app means you are joining an empowered construction workforce. If you have a passion for working with your hands and building a better community, then try Faber Work! Not many people can do what you do. Become a part of the next generation of construction workers. With technology at your hands, the sky's the limit.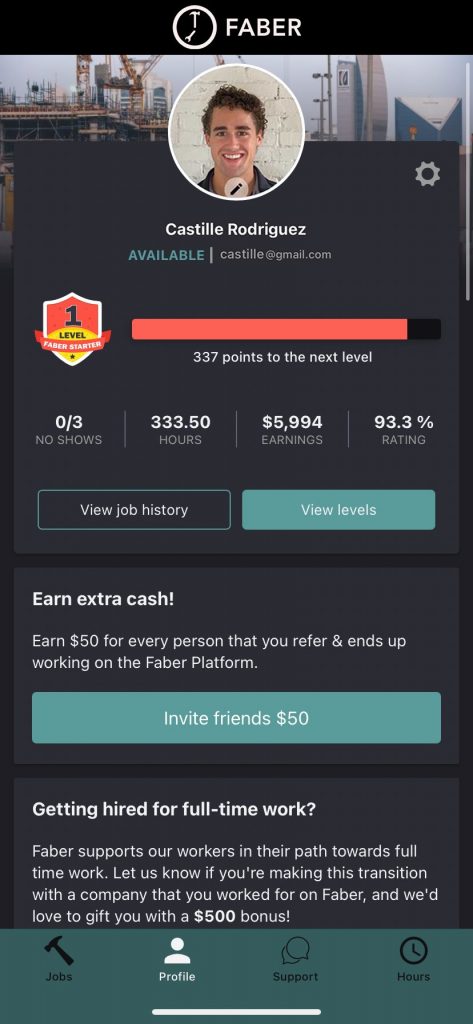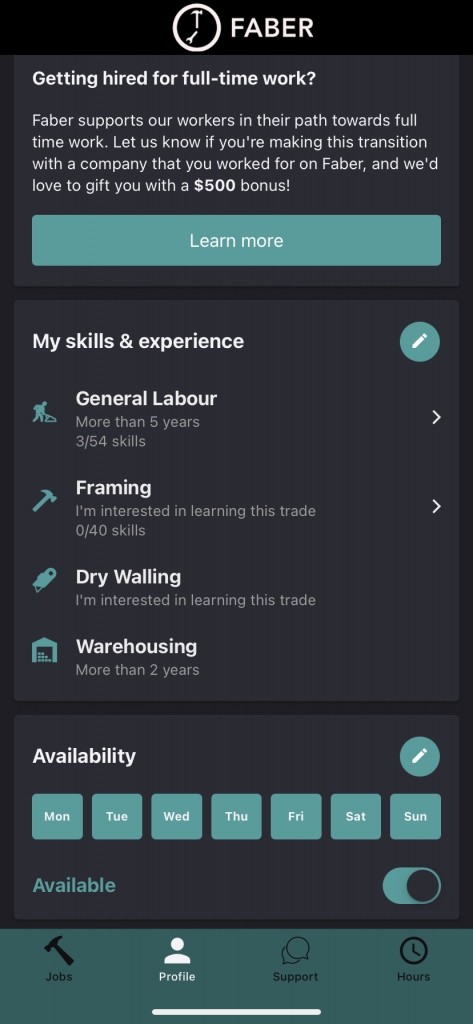 Ready to try Faber Work instead of temp agencies? Create your free profile and see the projects you match with!