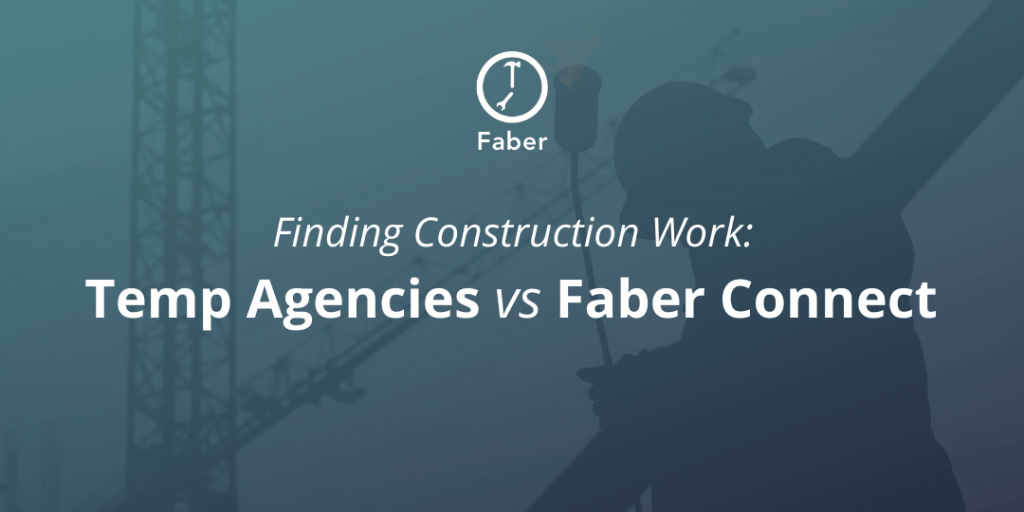 If you're reading this, you're probably looking for a construction gig, and you've already narrowed down your options.

Finding work at a temp labour agency
Finding work through the Faber Connect platform
Temporary labour agencies versus using the Faber Work app. There are a few things you'd probably like to know if you are picking between Faber versus what we'd like to call the "old way" of finding temporary work.

What are the exact differences between temp labour agencies and the Faber Work app?
In this article, we'll explain the experience of finding work through temporary labour agencies, and then we'll compare that experience to finding construction work on the Faber Work app.
Finding work with temporary labour agencies
Temporary labour agencies work by screening and interviewing applicants then matching the most qualified applicants with temporary work. These jobs can vary across industries, so you might find the interview and screening process general. A temp labour agency has contracts with companies – but not all of them are going to be a part of the construction industry.

The way that each temp labour agency operates might be slightly different, but they are all more or less the same. People go to temp agencies to find work in a short amount of time. People that line up to be temp labour workers usually line up and wait for a representative to call them up. These representatives ask applicants to fill out a sheet. This sheet would ask for your personal information, your key strengths, references, and sometimes a background check.

You may also be interviewed on the spot so that you are further qualified for one of the agency's contracts. Keep in mind that a temp labour agency's goal is to fulfill the contracts they have in place, and not all of them are going to be construction related. When you are looking for any role or gig, then temp labour agencies might work.

Even though a temporary labour agency is considered a more traditional approach to finding a job on the fly, there are still a few cons to consider.

Temp labour agency workers are often judged and treated a different way. Since you are classified as a "temp worker," some companies may think you are "less important" than their current employees. The security of a regular job and the team element might be missing if you are finding work at a temp labour agency.

If you are in between jobs or looking to prevent gaps in your resume, then a temp labour agency like True North Labour, Pristine Labour, and People Ready might work for you. Using the Faber Work app is another option, which can do everything a temp labour agency can, plus more.
Finding work with the Faber Work app
The Faber Work app is a platform that operates as a marketplace that speeds up the process of finding construction work. The Faber Work platform was created to connect local contractors to Construction Workers, all through an easy to use mobile app.

Using the Faber Work app gives you the freedom to find work based on your own schedule, do work that makes you feel proud and fulfilled, connects you with great people (both Faber Contractors and other Workers), and gives you opportunities to build your skills in construction.

Finding work through Faber is much different than finding work through a temporary labour agency. Instead of lining up at a temp labour agency and sitting through an interview, we've taken a different approach.

The first step is to sign up and create your free profile. Once you've created your profile and specified the skills you have, you are then asked to add your references. Our in-house team gives each of your references a call to assess your skill levels and personality. After we have verified your account and determined that you're eligible to work in Canada, you can then pick and choose the projects you want to work on.

This is the key difference between temp labour agencies and Faber. You can set your own availability and pick the projects you want to work on versus having a temp labour agency place you in a job that you don't want to work.

There is also an established reputation when you walk onto site as a Faber user. Construction workers who find projects through Faber are not temp labour. All Workers on the platform are considered independent contractors. Faber Contractors treat construction workers on Faber as a part of their existing team.

Applying to work on projects through the Faber Work app means you have a passion for working with your hands, and not many people can do what you do. You are valued and recognized by Faber Contractors, which is why you are given ratings too. This acts as a way for you to measure your own progress on the platform (and build your reputation).

The Faber Work app doesn't just connect you to more work, the platform connects you with Faber Contractors who want to see you learn and succeed. Some of the Faber Contractors you can connect with include companies like Bucci Developments, Bold Construction, and Urban One Builders.

Ready to join Team Faber? Get started today and create your free profile, get verified, and choose the projects you want to work on.