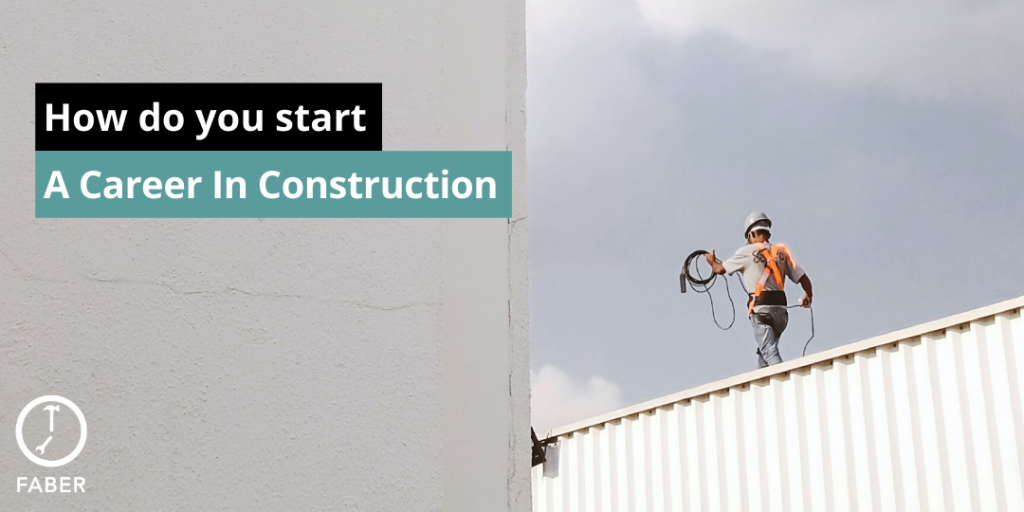 The construction industry is always in need of people who have a knack for working with their hands and being a part of a dynamic working environment. For many construction companies, skilled labor is hard to come by. What's even harder is to find people who are passionate about construction work.
If you like working with your hands and you find fulfillment in manual work, then the construction industry could be your true calling.

How to become a construction worker
From a general standpoint, anybody can start working in construction. Becoming a construction worker can mean working in manual labor or a skilled trade. You can also get into the "office" side of the industry, such as Estimating, Project Management or Construction Management.
Going through formal education or a trade school can help set up a career in construction. This means working on getting a degree, diploma, or certification from a recognized institute. Degrees will usually take you towards the path of civil engineering, architecture, interior design, or construction management. These are career paths that have a mix between office and site work.

Diplomas or certificates usually take you down the path of skilled and ticketed trades such as electrical, plumbing, carpentry, metal fabrication, and other trades. This is usually the more "hands-on" side of construction. When people think "construction worker", this is the type of work that comes to mind.
There's also the route of going in with no experience. Dropping off resumes at a construction site is still one of the most common ways of starting a construction career. Going this route means having your boots on the ground and learning on the go.

You'll have more hands-on experience, however, the technical side of construction may be harder to learn as team members may have less time to explain the "why's" and "what's" behind each task or project. With that being said, it's still possible to learn from more experienced team members around you by asking good questions.
Although it is still possible to rise up the ranks without formal education, certificates and diplomas will help with breaking the ceiling for promotions. If you work hard and show results, some construction companies may be open to sending you to a trade school to advance your career. This often includes being put on an "apprenticeship program" where you are placed with construction firms in addition to attending classes.
Making a career change to construction
It's never too late to switch over to the construction industry. As an essential part of the world economy, construction will always need talented people to keep projects moving. It could take years of working at a desk before realizing that working in construction is the better fit.

Being on a job site can bring more excitement and fulfillment, so the idea of switching over is fairly common. Whether you have an existing degree or not does play a factor in how you progress in the industry. What should be noted s that your skills are transferable, and what you've learned in one trade or industry can often lead to a path in construction.
For example, if you have experience working with health and safety, then you can start a career towards becoming a Construction Safety Officer (CSO). If you have experience working with managing large projects and teams, you can transfer these skills into a Site Supervisor, Project Management, or Construction Management role.
Even previous experience in General Labor can open the doors to learning skilled trades. As long as you have the right motives and passion for the work, then breaking into construction from a different industry is still possible.

Here are some qualities a great construction worker has:
likes working outdoors
strong and physically fit
safety is always a priority
can learn on their feet
For those who have no experience, becoming a trades helper or laborer is the simplest way to make a switch into construction. Laborers get the opportunity to work alongside skilled tradespersons to perform laboring activities. Newcomers can get a taste of which trades they'd like to pursue because of how closely they work with tradespeople.
Trades helpers or laborers are usually responsible for preparing and cleaning up sites, moving materials, preparing equipment, and performing demolition, excavation, and abatement work.
As mentioned earlier, it is still possible to build up a lucrative career with zero construction experience. Although it may take a bit longer for some, many prefer to earn their stripes in construction by jumping into general labor work.
Start working in construction today
Looking to start a career in construction and want to know what sets of skills you need? Click here for more information. Get the Faber Work app to land your next construction gig.
Sign up and start building up your construction skills today.