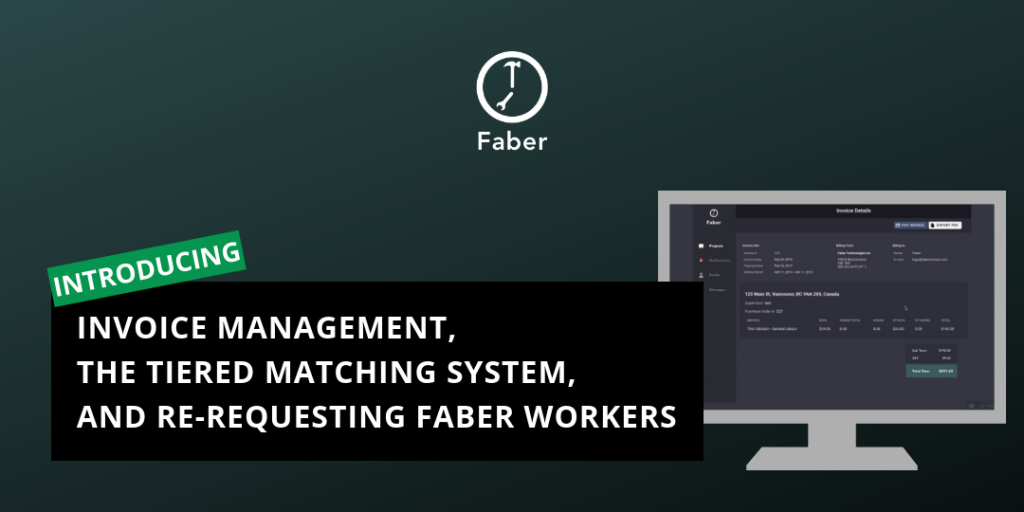 Over the years, we've worked with thousands of Faber Contractors and Faber Workers to help them connect with each other with as little friction as possible.

Our development team whipped up a few solutions to help our Faber Contractors and Faber Workers work together more seamlessly. This month we're introducing three new features – two of them will speed up the time it takes for Faber Contractors to find highly rated and reviewed Faber Workers. We've updated the Faber Connect platform with the following features:

Faber Contractors can receive, pay, and share invoices through the platform
We improved our matching algorithm with the "Tiered Matching System"
We find that these features will help both Faber Workers and Contractors on our platform successfully complete projects together. Read on to learn more about our newest features.
We Made Invoices Easier to Manage
We added an invoice management feature to the Faber Contractor platform. You can now see how you are being billed by project, the type of Faber Worker, the quantity of Faber Workers, and hourly rate.

If you have admin privileges to your company's account, you can also share the invoice with other people on your team through email. Prefer sharing invoices by paper? You can download invoices as printable PDFs too.

Admins of Faber Contractor accounts can also make payments via credit card directly through the Faber Contractor app. These features can help you stay on top of billing periods, invoicing dates, and keeping track of project labour costs.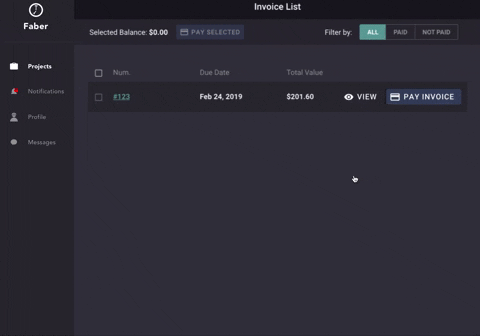 Finding You the Best Faber Workers With Our Tiered Matching System
We are always working on ways to improve your experience finding the right Faber Worker for your projects. We've made some changes to the matching algorithm that runs our platform.

When making a request, you might have noticed that your project is matched with only a small number of Faber Workers instead of the usual thousands. This is the Tiered Matching System in action.

The Tiered Matching System sorts through thousands of Faber Workers and selects a match based on your project needs, as well as the Faber Workers' reputation, experience, and overall quality metrics on the platform.

Your matches are found and ordered based on five different tiers, which helps you pick and choose from the most recommended Faber Workers first.

There is a short time-frame between each tier of Faber Workers that are pushed out to you. Over time you are matched with workers in each tier, which puts the highest quality Faber Workers in front of your eyes right away. You will see each tier of Faber Workers as your request start date approaches.

For example, let's say you make a worker request today and your project starts in 5 days. There is roughly 1 day before each tier of workers is released. The first Faber Workers you see are the ones that we recommend you select for your project.

Instead of your request being matched to all the available workers, we're now filtering out the cream of the crop and showing your request to the best Faber Workers.

What about same day worker requests? Each tier of Faber Workers is instantly matched with your project.

The Tiered Matching System is no doubt a big move for finding you the best Faber Workers, but we've also added another way for you to find skilled Faber Workers.

If you've created a request on the Faber platform before, then you can now re-request your favourite Faber Workers.
Re-request Your Favourite Faber Workers
When you are making a new worker request, you can now re-request your favourite workers. Have a worker who has already completed safety orientation? Had a great experience with a reliable, hard-working individual?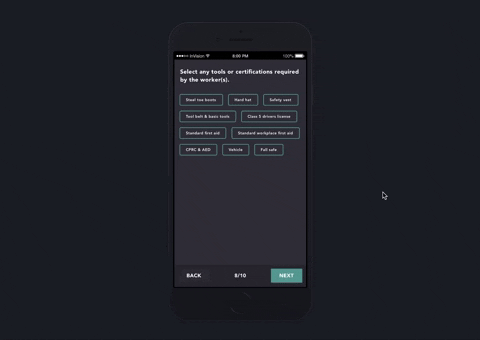 Any previous Faber Worker that you have given a positive review to will show up in future requests that they are qualified for. New Faber Workers will also show up when you are creating a new request.

Your favourite Faber Workers are shown if they fit the correct trade and experience of your request. You can invite your favourite Faber Workers if they are available during the days that your project is running. If you do re-request a Faber Worker, then they are sent the work request immediately and will have first-pick at accepting your request.

These Faber Workers are the workers who you prefer to work with, so we built a way for you to match your projects with them directly.
Think of them as your first draft pick.
Your favourite Faber Worker will receive a notification telling them that you have picked them for your project. If the re-requested Faber Worker accepts your offer, they no longer have to triple confirm. Once they've accepted your offer you are then notified that they are ready to go.

In the past, you might have created a request in hopes of matching with your favourite Faber Worker. This is a lengthy process that would have required you to scroll through a sea of applicants. The ability to re-request Faber Workers gives you a shortcut so that you are instantly connected to the workers you want on your project.

No more wading through hundreds of applicants to find that ideal worker!