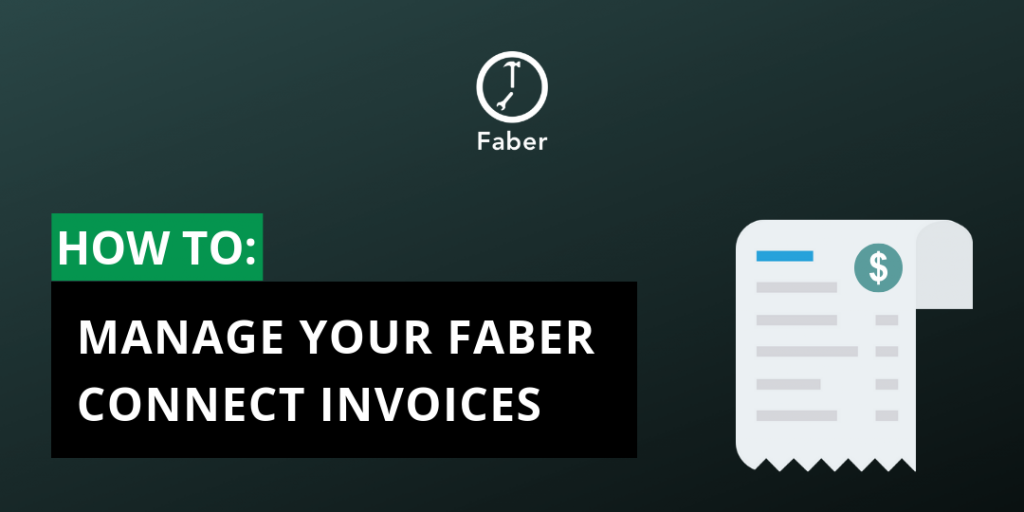 Handling payments and invoices can become a nightmare real quick. If you're managing the payroll of a dozen or even hundreds of workers, then you're most likely trying to balance the cost of all the other aspects of your project too.
Because managing project costs and invoices can get messy, we added an invoice management feature to the Faber Contractor platform. You can now see how you are being billed by project, the type of Faber Worker, the quantity of Faber Workers, and hourly rate.
Here's how the invoice management dashboard works.
Before you receive an invoice
Here's how we breakdown each invoice. You don't get an invoice until we deploy a Faber Worker onto your site, and you approve the hours they log. Each Faber Worker is responsible for logging their hours at the end of the day so that you can approve them.
The hours you approve are calculated on a weekly basis, which is what will be reflected in the invoices you receive. If you have multiple Faber Workers, then your invoice total is based on their wage and hours worked.
If you have multiple ongoing projects, your invoices will be totalled based on your individual project's weekly labour costs.
Here are a few things you need to know about your invoices:
Faber Workers need to log their hours
You need to approve the hours they log
Any hours that Faber Workers log are reflected on your invoice
Make sure the hours that have been logged are accurate so that we are sending you the correct invoice. If you see any discrepancies with the hours shown on your invoice, then you can contact the Faber Operations team to help you sort it out.
You can also customize how your invoices are sent to you (either individually or not), contact the Faber Team in the Faber Contractor app and we'll help you out.
How to view and pay for your invoice
If you're an administrator of your company's Faber Contractor account, you'll receive a weekly email that includes a PDF version of your invoice. The admin receives an invoice from Faber every Monday. Admins can also log into the Faber Contractor dashboard to view invoices.
You can also view all the invoices that were sent to you in the past and filter them by status. You can see which invoices were paid, unpaid, and which ones were marked as overdue. You are also given the option to export invoices into a PDF, so you can always coming back into the invoice management system to recover any misplaced invoices.
You'll be directed into the invoice manager dashboard by clicking the link in the email you receive from Faber. When you want to pay an invoice, all you have to do is view an invoice and click "Pay Invoice" in the invoice manager section.
You can also click "Pay Invoice" directly next to the invoice you want to pay. If you see an invoice marked with a red dot, this indicates the invoice is overdue. You will also know when an invoice is overdue by hitting the "view" button and checking the status of the invoice at the top of the page.
Here's how to pay for an invoice using the invoice manager dashboard.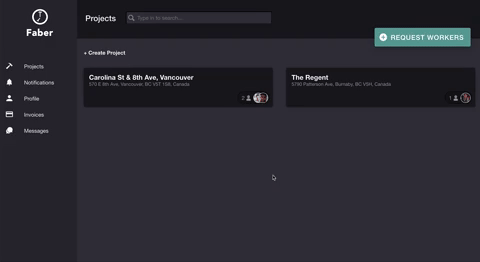 Paying for your invoice
You will be prompted to add a credit card to your company's account. All invoices that you would like to pay will be charged to this card. Depending on your company's structure, you might want to use a company card for this field.
Once you've paid for an invoice, we'll send you an email with a receipt. This receipt is a downloadable and printable PDF so you can file it any way you'd like.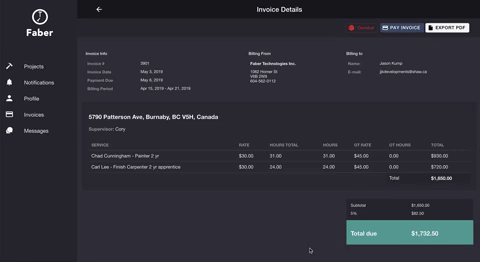 Are you looking to pay by cheque instead? That's perfectly fine! Sending us a cheque through the mail might take a little longer, but we'll still be able to manage your invoices for you. Once we receive your cheque, you'll receive an email from the Faber team along with the receipt.
We're currently working on a feature so that when you do mail a cheque, you can mark the cheque as delivered.
Who can manage invoices?
The person that manages your invoices is the primary admin of your account. They'll be the ones to receive emails from Faber, as well as having the ability to pay for these invoices. If you want to change the admin of your account or add additional admins, then feel free to reach out.
We'd be happy to make invoice management easier for you by adding more admins to your Faber Contractor account.
Admins of Faber Contractor accounts can make payments and view the breakdown of these invoices. This new feature can help you stay on top of billing periods, invoicing dates, and keeping track of project labour costs.
If you're an admin, then try exploring the invoice dashboard by logging into the Faber Contractor app.