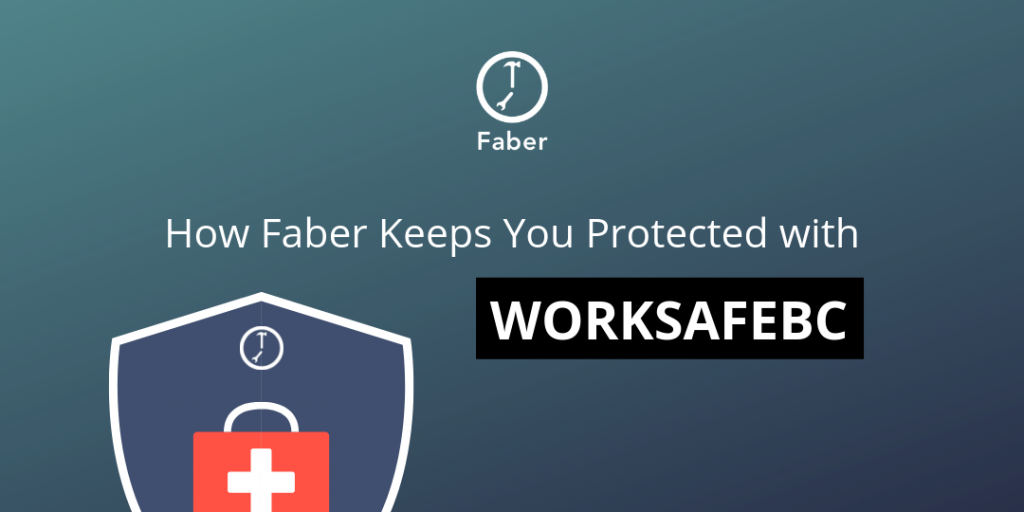 Working in the construction industry is exciting and action-packed. Your environment can change from day to day, and the people you work with can have a wide variety of skillsets. In a dynamic work environment like a construction site, there can be hazards that you need to be aware of.
Faber Workers are diligent and know about these hazards, but sometimes injury and illness can still happen. If you are working as a Faber Worker in British Columbia, we want to keep you safe from these hazards.
This is why all workers on Faber are protected with WorkSafeBC in the event of workplace-related injuries.
What is WorkSafeBC?
WorkSafeBC is an organization that ensures all workers within British Columbia are safe from workplace injury and illness. WorkSafeBC keeps both employers and employees accountable for maintaining a healthy, safe, and responsible work environment.
WorkSafeBC was formed by provincial legislation as an agency to take care of all things regarding a safe workplace and governing a no-fault workplace insurance system. What this means is they serve as the main resource for all workers and employers in BC to promote safe working environments.
WorkSafeBC also provides fair compensation in the event of injury, illness, disability, or other cases of workplace injury.
Since we operate with thousands of Faber Workers in British Columbia, we partnered with WorkSafeBC to keep all Faber Workers safe from workplace hazards.
Are Faber Workers covered by WorkSafeBC?
All Faber Workers are covered by WorkSafeBC. Faber Workers fall under WorkSafeBC's standards of protecting independent contractors.
For example, if you are Jordan Smith and work strictly through Faber then you are covered by Faber's WorkSafeBC program.
What Faber Workers are responsible for under WorkSafeBC
Everyone on a job site has a level of responsibility that is set by WorkSafeBC. As a Faber Worker you have three rights that will keep you safe on a site:
You have the right to know about potential hazards in a workplace
You have the right to participate in health and safety orientations and activities
You have the right to refuse unsafe work without worrying about getting punished, fined, or fired
You do have responsibilities in keeping yourself and other workers free from harm.
First, you have to be alert to any hazards on a job site and wear the protective gear that is required. Report any hazards immediately to the site supervisor so that it can be addressed right away. This helps promote a safe workspace while protecting everyone else working around you.
If an injury were to happen on the job, then you must notify your supervisor right away. You also need to get treatment quickly and tell your health care provider that you've been injured at work. Following their advice and treatment plan is a responsibility of yours.
If you are in the process of being treated or are recovering from an injury, then you might be asked to modify any tasks or duties. Following this advice is key, as you do not want to injure yourself further by jumping into your regular duties too quickly.
Last but not least, you are responsible for showing up to a job site ready to work. Being under the influence of alcohol, drugs, or any other substance while working on a job site is not promoting a safe work environment.
What happens if a Faber Worker gets injured on site?
In the very unfortunate event that injury happens, there are a few steps you need to follow as a Faber Worker. Following these steps ensures that everyone is aware of what caused your injury, whether it could be prevented from happening to others, and that you get the proper treatment needed.
Report your injury
Make sure you report your injury to your Construction Safety Officer (CSO) or Health and Safety Officer that is on site. This is necessary so that you get the proper attention and care you need. If you need to get transported to a doctor or hospital, then letting your supervisor and team know about your injury ensures you are given the proper first-aid and assistance.
If your injury caused you to miss work, then your site supervisor will let the Faber team know. The Faber team will then begin filing the WorkSafeBC claim.
See a doctor or healthcare professional
Healthcare professionals will give you a plan for a speedy recovery. Doctors may also refer you to other health care professionals and specialists if your injury requires it. If the doctor says you cannot return to work or is advising you to limit the amount of work you do, then it's important that you notify the Faber Team and your site supervisor.
Can I still work with Faber if I'm injured?
As a Faber Worker, you are responsible for following all of WorkSafeBC's steps towards preventing and reporting injuries. You are welcome to stay on board as a Faber Worker, but taking on additional projects is up to what your healthcare provider says. It is also dependant on what WorkSafeBC advises you to do.
If you are injured, we will not take you off the Faber Worker platform. The important thing is that you can recover and return back to healthy working shape.
Being injured is not fun, so it's important to follow all of your responsibilities and knowing your rights in ensuring you are working in a safe workplace.