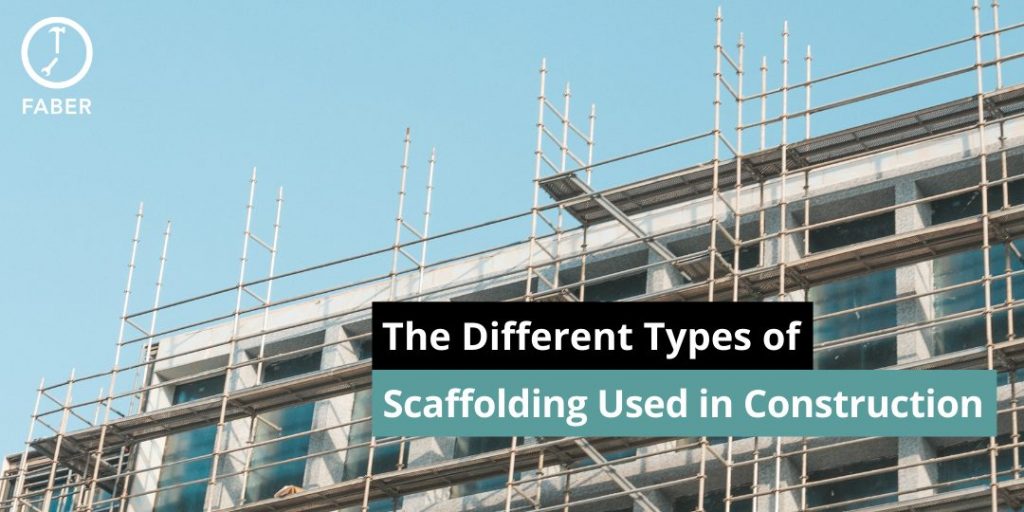 What is scaffolding?
Scaffolding, also known as staging, is a temporary provisional framework used in construction sites to provide support to the buildings' original structure. At the same time, it acts as a platform for the crew to perform construction work in heights or areas that they could not otherwise access.
Scaffolding is used for the construction and repair of different types of projects – ranging from simple residential buildings to complex industrial constructions.

There are 3 key parts for each type of scaffolding:
standards – the upright component with connector joins
ledgers – a horizontal brace
transoms – a horizontal cross-section load-bearing component that holds the working deck of a scaffold (the part you'll be standing on!)
Depending on the construction project, there are different types of scaffolding that can be used. If you're looking for more information about scaffolding, look no further. Below are the most common scaffolding types used on construction sites.
Single scaffolding
Also referred to as 'brick layer's scaffolding', single scaffolding is one of the oldest types of scaffolding and it is mainly used for brick masonry. Single scaffolding consists of standards, ledgers, and putlogs (small holes made in the walls of structures to insert the ends of poles or beams to support scaffolding), that are set parallel to the wall at a distance of approximately 1.2 meters.

More specifically, standards are set at a distance of 2 to 2.5 meters. and ledgers connect the standards at a vertical interval of 1.2 to 1.5 meters. Meanwhile, putlogs are set at a fixed distance of 1.2 to 1.5 meters and are extracted from a gap in the wall at the end of the ledger. All technical requirements need to be followed to keep the scaffolding structure sturdy and robust.
Double scaffolding
Double scaffolding is often referred to as 'independent scaffolding' and is mainly used for stone masonry construction projects. Considering that stone walls can't support putlogs, double scaffolding offers the required sturdiness and robustness by placing two scaffoldings together. Once the frames are well positioned, the putlogs can be then added to complete the scaffold. Cross braces and rakers can also be added at a later stage to make the structure firmer.
Cantilever scaffolding
In Cantilever scaffolding, standards are supported on a series of needles that are taken out through holes in the wall. Due to its nature, the construction of cantilever scaffolding requires that numerous safety and precautionary checks are performed.
Cantilever scaffolding is mainly used when the ground does not have the capacity or terrain to support the standards, when the top part of the wall is under construction, or when the ground is close to the wall and free from traffic.
Suspended scaffolding
As its name suggests, suspended scaffolding works by suspending the working platform from the roof using rope or chains. Suspended scaffolding is used in many different types of construction projects, ranging from repair work to painting. The height of the platform can be adjusted at the desired level and can be raised or lowered accordingly.
Trestle scaffolding
In Trestle scaffolding, the working platform is supported on movable ladders or tripods. This type of scaffolding is primarily used for indoor construction projects, such as repairs or painting projects, as the maximum height of trestle scaffolding is 5 meters only.
Steel scaffolding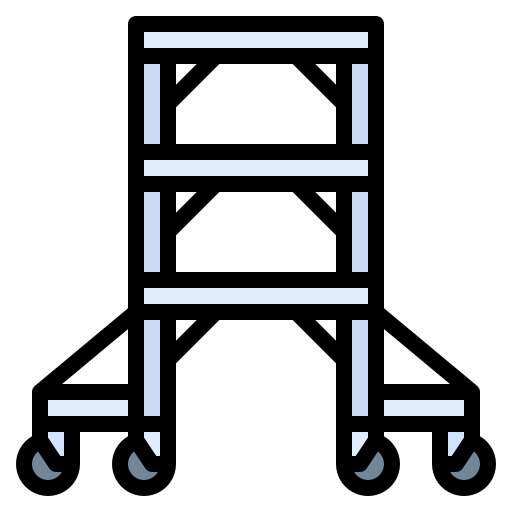 Steel scaffolding is created using steel tubes that are set together by steel couplers or fittings. Steel scaffolding is used extensively in different types of construction projects nowadays and it's known for its robustness, strength, and durability. On top of that, it can be very easily assembled and disintegrated.
Although it's not the most economical scaffolding solution, it provides high safety standards to the construction crew. Due to this, it's one of the most popular scaffolding structures and it's heavily used in outdoor construction projects and large commercial sites.
Patented scaffolding
Although Patented scaffoldings are also made up of steel, this type of scaffolding is fitted with special frames and couplings. Patented scaffoldings are readymade – which means they are available to buy in-store and can be put into use as soon as bought. In a patented scaffolding, the working platform is set on the brackets, which can be adjusted to the required level accordingly.
Kwikstage scaffolding
Another type of scaffolding is the Kwikstage scaffolding system. Known for its easy installation, the Kwikstage scaffolding is manufactured from hard-wearing galvanized steel and it is extensively used in both major and minor construction projects. It is created using a safe and durable interlocking system so that it can provide a resilient working platform that can be customized according to any desired height according to the site's requirements.
Have you worked with all types of scaffolding?

It can't be denied that scaffolding is an essential part of a construction project. Scaffolding is critical not only for the safety of the construction crew but also for the support of the original building's structure.
Taking into consideration that there are numerous types of scaffolding systems to choose from, each project's requirements and specifications will determine the type of scaffolding you will work with. For example, the type of terrain and the nature of the construction project will determine the type of scaffolding system used on site.
These scaffolding types are some of the most widely used in the construction industry. By investing some time to understand the uses and characteristics of each scaffolding type, it'll be easy to identify and understand what scaffolding is safe to use on a site.
Before stepping on a ladder, we're taught to know how it works and how to use it safely. The same goes for scaffolding!
Get hands-on scaffolding experience
When it comes to learning about the tools of the trade, nothing beats hands-on experience. With the Faber Work app, you have the potential to work on projects that involve setting up and working around scaffolding systems.
Reading about scaffolding can help you advance your career in construction. Sign up and start connecting with local construction projects to build up your skills.