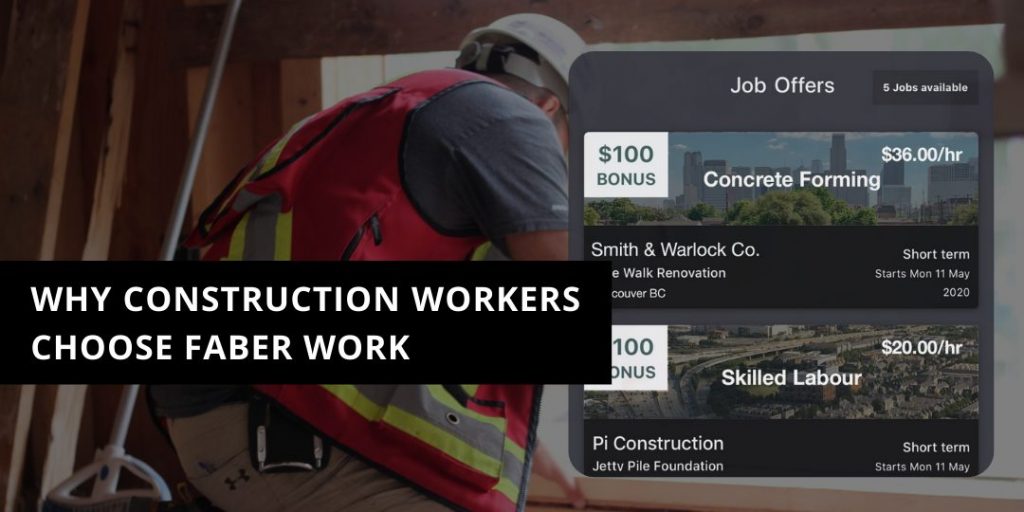 At Faber, we've built a place for construction workers to connect with not only the best construction work but also countless opportunities to meet great companies.

Since the launch of Faber Work, we continue to build the platform around a number of things that haven't been tried before. The main goal is to connect construction workers to great companies in the fastest and most transparent way possible. Throughout the years, we've seen people succeed and build a career in construction.
A construction career gives people the opportunity to build a better future for not only themselves but for the communities they live in. That's a big deal, especially for the next generation of construction workers.
We all want to see the fruits of our labor.
Here are a few reasons why the next generation of construction workers choose the Faber Work platform:
They can find work without having to write resumes for each project they apply to
They have the ability to pick up different projects to explore and learn the trades that interest them the most
Companies on the Faber Connect platform can endorse them for skills they've performed on-site, which lets them showcase the skills they've earned to future companies
Why do construction workers choose Faber Work?
Our team asked Faber Work users about their experience so far, and what they enjoyed the most.
Leo received the opportunity to start working in the industry without any previous construction experience. By working on different sites, he learned new skills that allowed him to build a more attractive profile.

This opens the door to better-paying work opportunities in the future.
"Every day is a new experience, today you are general labor, and tomorrow you can be working with a carpenter. Every single day is a new challenge. It is not boring at all, you are always doing something new and learning everything new"

Leo Faber User
If you are willing to learn, Faber will always be the platform for you to find new and exciting opportunities. We want to see you succeed and grow, while also doing work that brings a sense of fulfillment.
"Here I can learn about new skills even if I didn't have any experience. I can start and explore, then I will find something I want to do in the future."

M – Faber Work User
"If you are willing to learn something, Faber is a great opportunity for you to start"

J – Faber Work User
Are you looking to start a career in construction and unsure what sets of skills you might need? Click here to see read more about the skills needed to start a career in trades or construction.
Interested in trying out the Faber work platform to land your next construction gig?
Sign up and start building up your construction skills today.