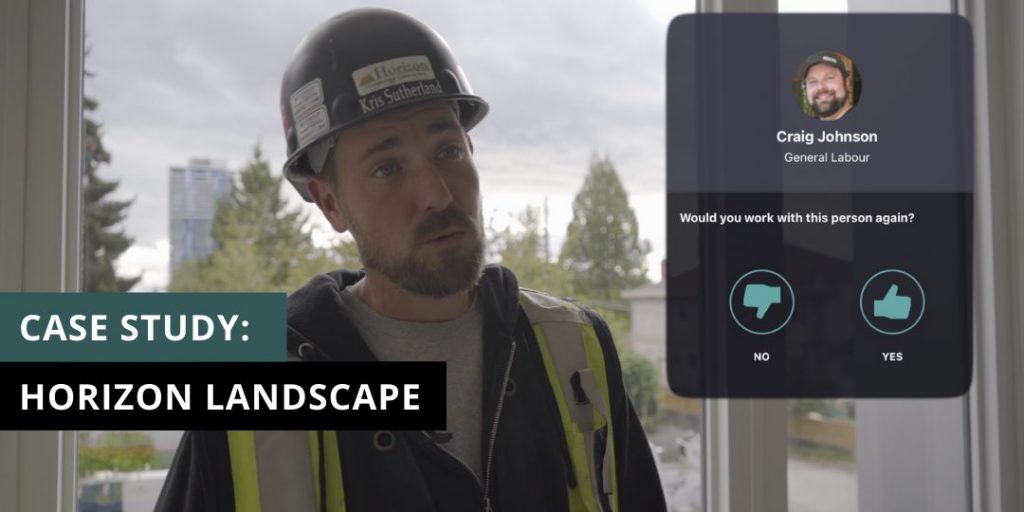 Who is Horizon Landscape?
As an industry leader for over 20 years, Horizon Landscape Contractors provides superior landscape construction and maintenance services for Western Canada's commercial, government, and residential development sectors. With the company's various divisions and experienced crews, Horizon Landscape is more than qualified to handle any job in the landscape industry.
Their projects span from universities and government to townhomes and high rises. With a fleet of 20+ machines and experienced operators, Horizon Landscape is the perfect partner when it comes to dirt work projects.
Where does Faber come in?
Horizon Landscape and Faber Connect partnered up in March 2018, and like other companies, a lack of manpower is one of the biggest problems they faced. They also needed to make sure they were finding reliable and consistent candidates who could uphold their company's quality of workmanship.
We interviewed Kris Sutherland, Senior Foreman at Horizon Landscape, who has over 20 years of experience in the construction industry. When it comes to finding the best candidates in the easiest way possible, Kris said Faber is something totally new and much needed.
Why landscaping companies like Horizon Landscape choose Faber
Easy access to ready and available workers
With big projects like SOMA On Cambie, construction workers are always needed for tasks that pop up, and teams that need an extra hand. With Faber's help, Horizon Landscape can find workers to fill their project's variable needs.
Creating a project and work-order is the first step – once that's done, your project is matched with a list of nearby candidates who are available and interested in working on your project. Finding and selecting the right workers is super accessible on Faber Connect.

It is not just about having the ability to adapt your crew to project demand changes, but ensuring you have the right people for the task at hand. For Horizon Landscape's SOMA project, this means matching with workers who can help with concrete pouring, unloading trees that are craned to the rooftop, or placing paving stones on the ground floor level.
"We've had really good workers come through the Faber App."

– Kris Sutherland, Senior Foreman, Horizon Landscape
Ability to view worker ratings, reviews, and job history
One of the key features that made Faber Connect work for Horizon Landscape is the worker rating and review feature.
All workers on the platform receive ratings and reviews from past companies they have worked with. Their job history is also displayed to make things as transparent as possible. This makes it easy for contractors like Horizon Landscape to get a good understanding of candidates before placing them on a project.

Reliability plays a big part in getting extra manpower on-site, which is why Horizon Landscape often chooses to "re-select" the Faber Work users they have found success with.
Simply put, Horizon Landscape takes the guesswork out of finding more people to help with a project. No rolling the dice, more transparency and control, and more time to focus on the project.
"I love the feature on the app where we can actually rate workers for that day, or that project, as well as select past workers who have come to us. We can request them again for future projects."

– Kris Sutherland, Senior Foreman, Horizon Landscape
Dedicated customer support team
The Faber in-house support team has over 30 years of experience in the construction industry. No mindless admin work needed from your end. The platform is built to make sure everything you need is at your fingertips. In construction, there is always the chance of a hiccup or bump in the road.
Our customer support team is here to make sure your project runs smoothly, and that you are connected with the best candidates as your projects change.

"I really like it for the ease of the app. The customer service is absolutely fantastic as well. We put in a request for a certain amount of workers for a day. Whether or not that worker [needs to] come in, [or] not, Faber has always been on board to make sure we have the appropriate amount [of candidates] we requested."

– Kris Sutherland, Senior Foreman, Horizon Landscape
When we asked Kris if he would recommend Faber to others…
"Absolutely I would recommend Faber. Not only in the [commercial] construction industry but even in the residential [construction] industry. If you are in need of workers, [Faber Connect] is the app you need to get."

– Kris Sutherland, Senior Foreman, Horizon Landscape
Find construction workers on-demand with the Faber Connect platform
Join other leading contractors that have reengineered the way they find construction workers. With thousands of qualified candidates, the Faber platform can help your business scale and grow as your projects begin to ramp up.
Sign up for free and connect with the best of the best construction workers in your area.
If you have any questions, check out our FAQ Section or give us a call at 1-888-366-WORK.