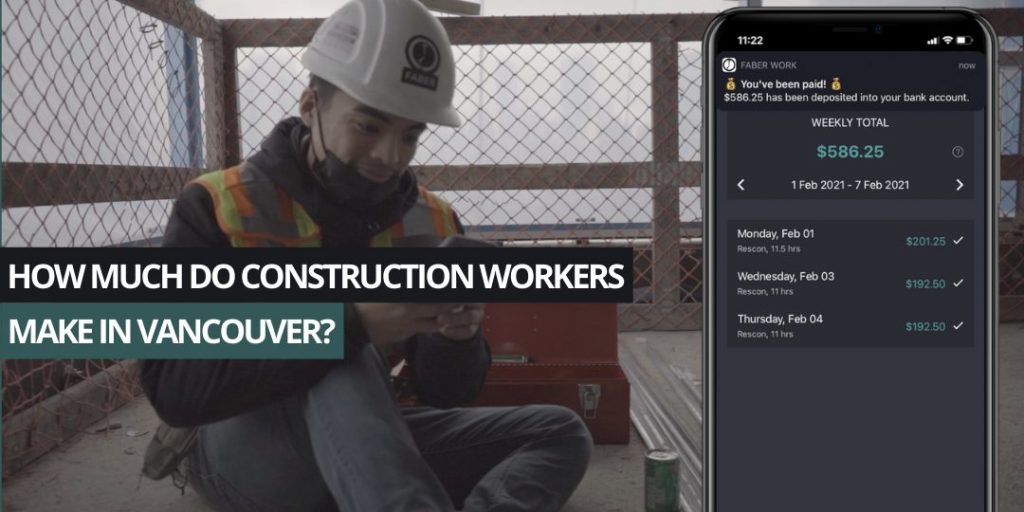 How much do construction workers make in Vancouver? (2021)
Are you thinking about pursuing a career in the construction industry? If so, you might be wondering how much money construction workers make in Vancouver's construction industry. Even the most experienced tradespeople think about their earning potential too.
According to Economic Research Institute statistics, employment opportunities in the construction industry are expected to grow by a substantial amount with an estimated 12% increase in salary in the next 5 years in Vancouver, British Columbia.

To better understand the factors of your salary – how it varies by province, years of experience, and job titles – we compiled the most recent data on how much construction workers make in Vancouver on average.
Based on recent job postings on ZipRecruiter, the construction worker job market in Vancouver, BC and the surrounding areas is very active. A construction worker in the Greater Vancouver area makes on average $2,765 per month, or $14 (1%) more than the national average monthly salary of $2,751.
What does the earning potential look like in the later stages of your construction career?
Based on salary survey data collected directly from employers and anonymous employees in Canada, a senior level construction worker with 8+ years of experience earns an average salary of $59,366/year. This does not include skilled trades or management.
How much do construction workers make on the Faber Work platform?
At Faber Connect, we believe all construction workers should be paid what they deserve. This means providing competitive pay based on experience, trade skills, and certificates. For highly experienced skilled tradespeople, we also think they should have a say in how much they get paid.
With entry-level workers who are just getting started in the construction industry, the pay rate starts at $18 an hour in Vancouver. To increase your likelihood of earning more, we've created a system to help you track your progress and experience gained through Faber Work.
This experience is gained by working for reputable companies who can endorse you for tasks and skills you've performed on-site.

Our "skill tagging" feature helps you track and share your practical work experience to work towards a successful career in construction. This feature is great for those who are working to progress their career into skilled trades, such as carpentry.
If you are a highly experienced tradesperson, you can also "set your own rate" – a feature exclusive to Faber Work. Skilled tradespeople have the power to earn more and get paid what they deserve. As it should be.
Competitive pay is one of the many reasons that make the Faber Work app a better solution for entry-level construction workers and experienced skilled tradespeople alike.
And here's why thousands of people choose Faber Work over temp agencies in Vancouver.
At the end of the day, a career in construction is a rewarding one. Whether you're new to the industry or highly experienced, you have a place in construction.
With that being said, finding opportunities to work in this industry shouldn't be difficult. With Faber Work, construction projects are made available to you right on your phone. Join Faber Work and become part of a connected workforce that's proudly building a better world.
Sign up for free, download the Faber Work app, and see how much you can earn!