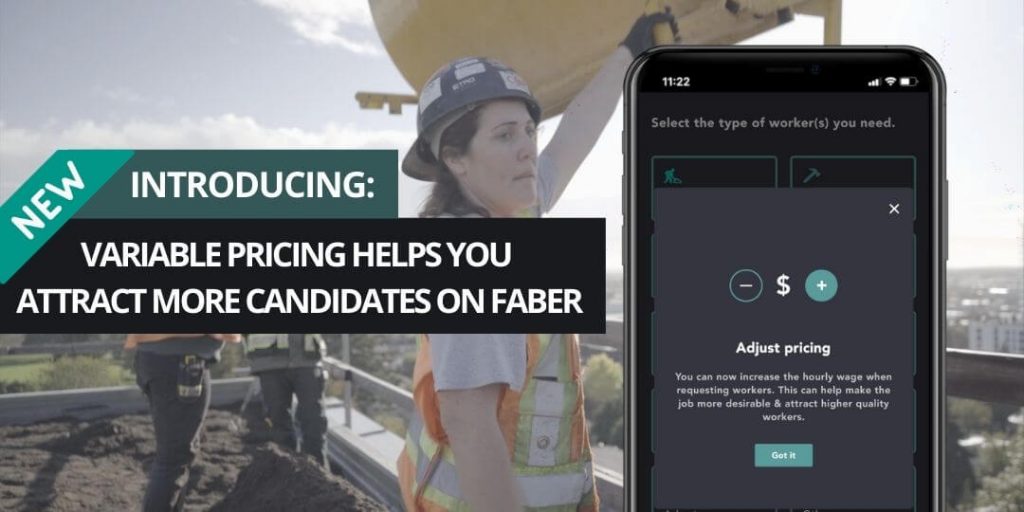 A construction project has many moving parts and variable costs. Controlling these costs can be a challenge, and the saying "you get what you pay for" rings true in our industry.
We wanted to make forecasting project labor costs easier, more transparent, while also addressing the "you get what you pay for" problem.

Introducing the Variable Pricing model: companies can now set their own rates for hiring construction workers or skilled tradespeople through Faber Connect.
In need of high-quality workers for an urgent project? Adjust pay rates to attract and engage top tier workers faster.
Why variable pricing and how it compares to the old pricing model
Before the Variable Pricing feature, all worker pay rates were set. Faber Connect used to have a set rate defined for general laborers and skilled tradespeople of varying levels of experience. In the past, there was no way to adjust the worker's pay.
It was sometimes difficult to attract skilled tradespeople with more experience due to the rate we set for you. With Variable Pricing, companies have the option to increase pay rates to attract higher quality and more skilled candidates.
This helps companies tackle the "you get what you pay for" problem head-on.
The Faber Connect platform will also suggest the top workers in the area based on the hourly rates set for the project.

Project Managers, Estimators, and other stakeholders can now forecast temporary labor costs for specific projects better than before.
The Variable Pricing feature can not only help improve worker quality for companies but also increase the likelihood of Faber Work users applying for each project. Engage with thousands of construction workers and motivate them to apply for projects with a higher pay rate.
In addition to the Variable Pricing feature, tradespeople with over 2 years in their specific trade now have the ability to set their own rate through the Faber Work platform. Highly skilled tradespeople are hard to come by, and their pay should reflect their skills.
Transparent rates and pricing breakdown
Faber Connect adds a 30% markup on the base hourly pay rate a company sets. The worker gets 100% of the base pay rate that is set. The 30% markup covers all worker insurance (WorkSafeBC), payroll costs, and admin fees.
Workers get paid what they deserve, and companies can see where the 30% markup is going. This is as transparent as it gets.
Set rates and attract the best construction workers with Faber Connect
With the new Variable Pricing feature, you have even more power to attract the construction workers you want through the Faber platform. This helps your team finish projects on time and on budget with the top tier workers of your choice.
Are you a construction worker or skilled tradesperson looking for work? Signing up for Faber Work and downloading the app is completely free.
If you have any questions, check out our FAQ Section or give us a call at 1-888-366-WORK.