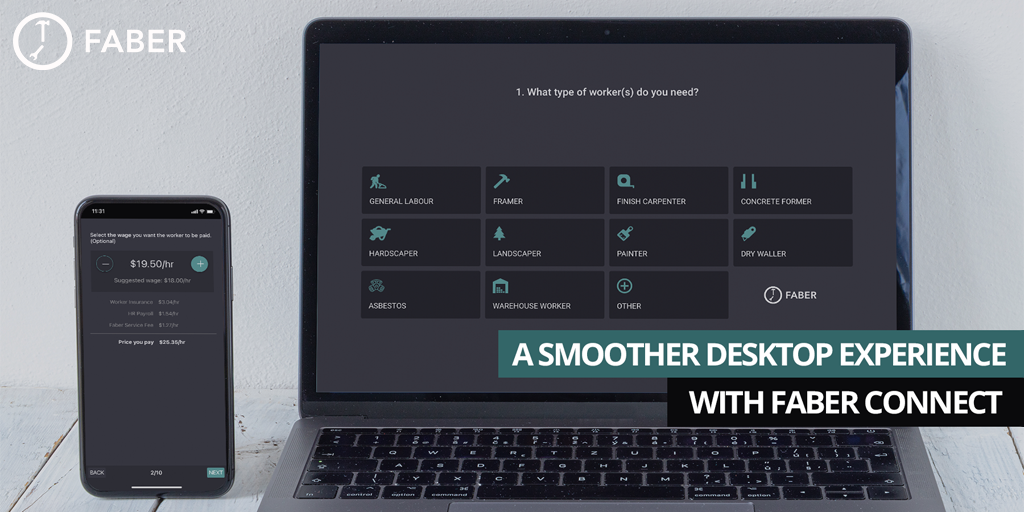 We've heard you loud and clear, and we've made it even easier for desktop users to use the Faber Connect platform on workstations.
With our updated desktop interface, you'll notice a much smoother and more seamless experience when creating a request for workers.
Say hello to the bigger and better version of Faber Connect for your desktop! Here's how these changes improve the way you find construction workers with Faber Connect.
Step 1: Picking the type of workers you need for your project.
Here's what changed: the icons were made larger and more clear. This gives you better visuals to pick available trade options. In this case, bigger is better.
Step 2: Creating a general labor job offer
When creating a work-order for general labor, it's easier to switch your selection from general labor to skilled labor. You can now see the difference between general laborers and skilled laborers. We've added a clear comparison between the two laborer options so that you know what type of talent pool your request gets matched to.
2.1 If you are creating a skilled trade job offer, step 2 is for you to pick the minimum experience level for the workers.
The new updated version gives you a better visual to pick the minimum experience level you require for the workers.
3. Selecting the number of workers you need for your project
Bigger buttons and clearer text when making a selection for the number of workers you need.
4. Payment break-down
This step shows a pricing breakdown of the type of worker you are looking for. The pricing is as transparent as it gets!
5. Selecting the tasks that workers will be performing on site.
6. Selecting a start and end date
No more scrolling to pick a date.
Now you can pick a start and end date for your project with an easy-to-use calendar.
7. Picking the days workers will be required on your site.
8. Selecting the start and end times for the workers.
In this step, we added better visuals when selecting the start and end times for workers. We got rid of the extra steps so you can get workers matched to your projects as soon as possible.
9. Selecting additional certifications needed for your projects:
If you are looking for candidates with additional certifications, this step allows you to do so with a click of a button.
For example, if you need Fallsafe Certified workers, you can make the selection without having to go back to re-do everything. If your original request was for general labourers, adding certifications can result in change of price. No worries, you will be notified beforehand.
10. Last step: enabling the auto-accept feature
From here you can choose to let the Faber Connect team handle your request. We will manage and vet the applicants so you can focus on what's more important to you – the success of your projects.
Enabling the auto-accept feature on Faber can save you time and increase worker quality. Our in-house reps will make sure that the workers sending to your site are the best of the best for your project!