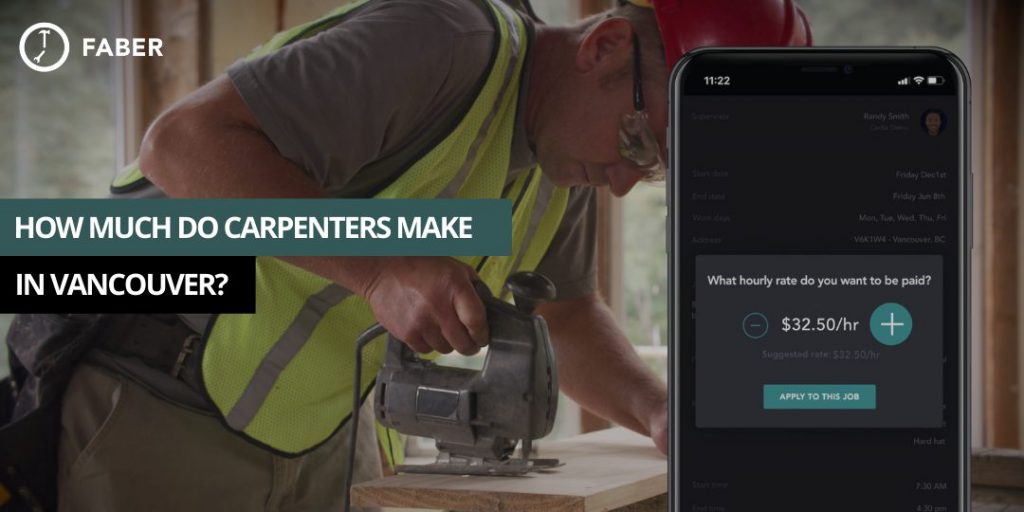 What does a Carpenter do?
Carpenters construct, install, and repair a variety of residential, commercial, and industrial structures and fixtures. In general, carpenters work with wood, steel, and concrete. These jobs can vary from installing doors of an office building to building bridges. Carpenters are skilled tradespeople who are highly sought after. This means carpenters are more likely to receive higher salaries or hourly rates.
We've broken down how carpenter salaries and pay rates are determined in Vancouver. To help you better understand the factors that determine the salary of a carpenter, we've taken our own data as well as industry data to break down how salaries may vary. salary In a nutshell salaries can vary by province, years of experience, certifications, and whether you are a certified Red Seal Carpenter or not.
A carpenter's earnings can also vary depending on the type of construction company they work with. For example, a small home builder may not offer the same hourly rate as a large general contracting company. The size or type of company can also determine how much a carpenter gets paid.
The section below highlights the most up-to-date industry data on how much carpenters make in Vancouver.
In Vancouver, British Columbia, a carpenter gets paid $43,243/year on average, which is roughly around $21/CAD an hour. However, the pay scale varies depending on a person's experience. Typically you'll see that the more experienced you are in carpentry, the higher your salary or hourly rate will be. When looking at the upper end of the pay scale, Red Seal carpenters will earn a rate of $35-40/CAD an hour on average. Because of their knowledge and skillset, it's a given that Red Seal tradespeople get paid the most out of all experience levels across allmatter trades.
A carpenter is a nationally designated trade under the Interprovincial Red Seal program. Any skilled trade that is classified as a Red Seal trade can forgo the Red Seal Certification. It isn't mandatory unless specified by an employer as a hiring qualification. It is highly recommended though, as this is where most of the payoff comes from a carpentry career.
How much do carpenters make on the Faber Work platform?
We believe that every carpenter should be paid what they deserve, especially when working on projects through Faber Work. Well, what if you're just getting started in carpentry? With Faber Work, entry-level carpenters who have around 1-year of experience will start at a pay rate of $22 an hour. This exceeds the average hourly rate for carpenters in Vancouver. We also have the "skill-tag" feature to help you keep track of all the carpentry experience you've gained on the projects worked through Faber.
Here's how much carpenters get paid on the Faber Work platform:
Scale showing pay rates by experience level

Highly skilled carpenters are in high demand, which is why they should have a say in how much they get paid. What does "having a say" look like? Faber Work gives the option for experienced carpenters to "set your own rate".
You don't need to have a Red Seal certification in carpentry to "set your own rate". As long as your profile has 2+ years of verified experience in carpentry, this feature will automatically be enabled for you!
If you're a carpenter with 2+ years of experience, companies on the Faber Connect platform can see the rate you have suggested for their project. After a company reviews your profile and experience, they can choose to confirm the suggested hourly rate you set for the project.
And that is just one of the reasons why thousands of tradespeople choose Faber Work over temp agencies in Vancouver.
Finding carpentry opportunities shouldn't be difficult. Whether you're new to carpentry or have years of experience, Faber Work provides an easier way to find carpentry work that pays well. All types of construction projects are made available to you right on your phone. Join Faber Work and become part of a connected workforce that's proudly building a better world.
Sign up for free, download the Faber Work app, and see how much you can earn!